Click here to order the St. Raphael Oil
The Archangel St. Raphael Holy Healing Ministry, Inc.(ASRHHM, Inc.) 501(c)(3) is a worldwide charitable apostolate dedicated to serving Jesus Christ through spreading His message of Love, forgiveness and healing to all people. It is important to acknowledge that all of this comes from the blessings and graces of our dear Lord, Savior and Creator, Jesus Christ. It is through the graces poured out on all of us by Jesus and Mary through the powerful intercession of the Archangel St. Raphael that we are able to offer our services to all people.
Thank you to all our holy priests

who use the St. Raphael oil, and have supported and assisted this ministry. The St. Raphael Ministry prays for all priests, but especially those who have ministered with us as well as all our future priests.
Rev. Joseph Whalen, M.S.
was born in Quincy, Massachusetts and received his call to the priesthood late in life. He entered Pope John XXlll Seminary, a seminary for delayed vocations, and completed four years of advanced graduate studies. On September 9, 1989, at the age of 66, he was ordained a Roman Catholic priest by Bishop Alfred Hughes and became a LaSalette Missionary priest. He retired in 2014 at the age of 91. His dramatic life story was a story of "How God writes straight with crooked lines!" His ministries were many and he was a champion of the sick, the elderly, drug addicts, alcoholics, families, and those in need. He gave us a tremendous story of Almighty God's love, grace and mercy in the circumstances of his own life; he was also the founder of the renowned international Archangel St. Raphael Holy Healing Ministry. Father's message was to realize that It's Never Too Late to Live. Fr. Whalen conducted healing services for many years and spent his entire priesthood witnessing Christ's healing presence and helping countless people to find hope in the midst of life's many challenges.
Born: July 14, 1923
Profession: July 14, 1985
Ordination: September 9, 1989
Eternal Life: August 8, 2016
Fr. Joe Whalen has gone to his eternal rest. His legacy and love for this Ministry that he founded will continue. We now have a powerful intercessor in Heaven!
Rev. John E. Welch, M.S.
was born in Clinton, Massachusets. He received his call early in life and went directly to the minor Seminary in Hartford, Connecticut. After completing his years of education and training he was ordained to the priesthood on May 28, 1960 at the National Shrine of Our Lady of LaSalette in Ipswich, MA. He celebrated his 50th Jubilee in May of 2010. After a brief time as parochial vicar at Our Lady of Sorrows in Hartford, CT, he returned to Our Lady of LaSalette Shrine in Ipswich, MA. He was appointed editor of Our Lady's Missionary Magazine and became director of the Shrine until 1979 when he was appointed pastor of St. Mary's in Jewitt City. He has been assigned to St. James in Danielson, CT for over 20 years, where he is noted for his inspiring missions and gift of preaching. He was also part of the Archangel St. Raphael Holy Healing Ministry team and traveled extensively with Fr. Joseph Whalen.His homilies have captivated countless numbers of Catholics. The charism of the LaSalette priest is reconciliation. He is also noted for hearing confessions hour upon hour. He has a special gift for showing God's love for each person.St. James' Church | Missionaries of Our Lady of La Salette |
Rev. Aniello Salicone, S.X.
of the Xaverian Missionaries was born in Italy in 1940. In 1952 he entered a Minor Seminary. In 1961 he left the Pontifical Seminary of Salerno (Italy) to join the Xaverian Missionaries in Parma. In 1962, he made his first religious profession. He made his perpetual vows in 1965 and was ordained a priest in 1966. In 1967 he was sent to Salerno, first as a vocation director and then as vice rector. After 8 years of ministry in Italy, he left for London to learn English. The year after, he went to Sierra Leone, West Africa to teach and minister in the diocese of Makeni. In 1980, Fr. Aniello went to Chicago for post graduate studies at the Catholic Theological Union (CTU), where he earned his Master of Art in Theology. He went back to West Africa, and was sent to St. Paul Major Seminary in Liberia.
Fr. Aniello taught Pastoral Theology and ran the seminary for seven years. He returned to Italy for treatment, and from 1990 to 1993 he was rector of the house in Finchley, London. Finally, in 1994, he was assigned to the U.S.A. He went to the Xaverian House in Holliston, Massachussets in 1994. He began his healing ministry in 1995 and went to Chicago in 2001 to help Fr. Michael Davitti, a Xaverian Missionary who runs the St. Therese Chinese Catholic Mission. He served in Italy, London, West Africa and many states throughout the United States. He was the assistant to the Rector at the Xaverian house in Franklin, Wisconsin. Sadly, he was one of the 2020 Covid victims. Fr. Salicone was blessed with many gifts from God. He was one of the Archangel St. Raphael Holy Healing Ministry's beloved priests. Xaverian Priests/ Fr. Aniello Salicone
Born: March 12, 1940
Profession: 1962
Ordination: October 16, 1966
Eternal Life: November 18, 2020
Fr. Aniello has gone to his eternal rest; many will remember him for his many gifts and his famous prayer:
"Thank you Jesus for loving me as your number one. Please help me
to love You, others and myself the way You love me."
Rev. Paul Desmarais
was born in Providence Rhode Island and educated at Christ the King School in West Warwick and Our Lady of Providence Seminary High School and College in Warwick Neck. He completed his seminary studies at St. Mary's Seminary in Baltimore, Maryland and was ordained to the priesthood on May 26th, 1979 by Bishop Kenneth A. Angell at St. Matthew's Church in Central Falls.
Fr. Paul served as assistant pastor of Sacred Heart Church in Pawtucket; as part-time spiritual director for the Blackstone Valley CYO and East Bay CYO; as Director of Spiritual Formation and Formation Team Member, Seminary of Our Lady of Providence; as summer chaplain for the Boy Scouts (Camp Yawgoo) and as chaplain for the Youth Ministry Team in Pawtucket.
Fr. Desmarais was named pastor of Sacred Heart Parish in Pawtucket in 1997 and served there until being named pastor at St. Mary's Parish in Carolina and St. James Chapel Charlestown in 2005.
He is very dedicated to service and has a fearless faith. Being an accomplished artist, Fr. Paul believes in giving back his God given talent by helping others through volunteering. He conducts two healing services monthly, one of which focuses on addictions. He uses the St. Raphael oil at these services and makes it available to all who attend. (Healing services are currently suspended until further notice, please see our schedule page.)
He is the

Director of Deliverance Ministry for the Diocese of Providence RI.

St. Mary's Parish/ Fr. Paul Desmarais
· Born August 20, 1950 – New Bedford, MA
· Attended Hopkinton Public Schools, Marian High School, Framingham
· Undergraduate Degree from College of the Holy Cross, Worcester, MA. 1972
· Attended St. John's Seminary, Brighton, MA 1972-1976
· Ordained to the diaconate – October 15, 1975. Served as a deacon at St. Matthew's; Southboro
· Full Pastoral Diaconate – Notre Dame, Southbridge from Summer of 1976-June of 1977
· Ordained to the Priesthood – St. Paul's Cathedral, Worcester, MA – June 4, 1977
· Served as Associate Pastor at St. Paul's Cathedral, Worcester; St. Luke's, Westobrough; St. Francis of Assisi, Fitchburg, MA; St. Anne's, Shrewsbury, MA; St. Brigid's, Millbury, MA
· Named Pastor of Holy Angels' Upton, MA – July 1992 Served as pastor up to September 2011
· Co-founding Pastor of St. Gabriel's Parish, Upton, MA. Named Pastor of St. Gabriel's Parish, Upton – September of 2011
· Involved with Worldwide marriage Encounter – Has served as presenting priest, Team Training Presenter, Executive Leadership for Worcester; MA/NH/RI/ Section 1 Leadership, Three terms as Section 20 Leadership.
· Helped to establish relationship with St. Anne's, Sucrerie Henri, Haiti
He is a great scholar and a very holy and humble priest. St. Gabriel the Archangel Parish/ Fr. Larry Brault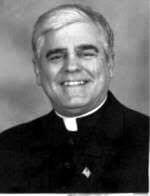 Rev. Monsigner Karl Chimiak
A native Washingtonian, attended Mount Calvary parish and school in Forestville Maryland, graduated from Bowie State College with a B.S. in Elementary Education, with a special education minor, received a Masters in Divinity from Mt. St. Mary's Seminary, Emmitsburg MD. In 2005 Father Chimiak was elevated by (Saint) Pope J John Paul II, Monsignor, Chaplain to the Holy Father. Monsignor is a retired Chaplain Colonel, United States Air Force serving 26 years including being mobilized during Operation Desert Storm in 1991. He was the Police Chaplain for the Maryland State Police (19 years), Maryland State Transportation Authority Police (10 years) Charles county Sheriff Office, St. Mary's Sheriff office, La Plata Police Departments. He was Catholic chaplain to the Prince Georges Police department, District 6, Beltsville, MD. Monsignor is also a fourth Degree Knight of Columbus and serves as an Association State Chaplain, special Liaison to the Cardinal's office, District Friar, Archdiocese of Washington and member of the Prince George's council in Beltsville. Monsignor Chimiak has been ordained close to 40 years and has been pastor at: St. Michael's in Ridge Maryland, Holy Ghost in Issue Maryland, Sacred Heart in La Plata Maryland, St. George in Valley Lee Maryland and St. Joseph church in Beltsville Maryland.
"First and foremost, I am a priest and will always be a priest," Msgr. Chimiak said. "One of the greatest honors you can get – by police, by military or by civilian – is the title 'Father' or 'padre.'"
"I am identified as a chaplain colonel – always my identification as a priest comes first. The cross always comes first," he says. "I wear the uniform of the Air Force, but I wear the cross and that sets me apart. As a priest in the Air Force, I am part of a team and I represent Jesus."
Msgr. Karl Chimiak marked his 40th anniversary as a priest of the Archdiocese of Washington in 2020.
He recently retired from his post as senior Catholic Chaplain of the 20th Fighter Wing at Shaw Air Force Base in South Carolina. He was on loan as a contract government priest for the Archdiocese of Military Service USA. Msgr. Karl himself, was healed of a eye problem through the intercession of St. Raphael and the St. Raphael oil. He has seen many miracles through the St. Raphael oil and uses the oil in his ministry. St. John Vianney Catholic Church
is a Boston native. He attended archdiocesan seminaries and was ordained to the priesthood at the Cathedral of the Holy Cross by Humberto Cardinal Medeiros on May 17, 1975.
Immediately following ordination he was named associate pastor at St. Peter Parish in Gloucester. His appointment to Wakefield, also as an associate followed in 1981. In 1992 he was appointed a parochial vicar at Immaculate Conception in Revere and in 1998, as parochial vicar at St. Patrick Parish, Stoneham, MA. He is currently pastor of St. Joseph Parish 173 Albion St. Wakefield, MA 01880 tel. 781-245-5770. The St. Raphael healing oil is made available for all parishioners at the parish rectory; it is also available at Fr. Ron's Healing Mass and service the first Wednesday of every month beginning at 7:00 PM.
Fr. Barker is a calm, quiet man, even tempered and very prayerful. He is pictured with his loyal companion "Caleb" the parish dog.
St Joseph Parish: Home
In all ages, priests have been held in the highest honor; yet the priests of the New Testament far exceed all others. For the power of consecrating and offering the Body and Blood of our Lord and of forgiving sins, which has been conferred on them, not only has nothing equal or like to it on earth, but even surpasses human reason and understanding.
They are the life line between God and man.
+ + + + +
St. Raphael Oil Ministry
By Christina Galeone
CFP Correspondent
https://catholicfreepress.org/news/healing-ministry-distributes-st-raphael-oil-a-sacramental
Many people might dismiss the future of an alcohol-addicted, divorced, depressed dad of five as hopeless. But amazing things can blossom with a little faith.
Not only did Joseph F. Whalen return to the faith and overcome his roughly 40-year-long addiction to alcohol through faith and Alcoholics Anonymous, but he was also ordained a La Salette Catholic priest at age 66 and spread healing and hope globally through the ministry he founded. Father Whalen retired in 2014 and passed away in 2016 at age 93. Today, the Archangel St. Raphael Holy Healing Ministry continues to flourish in 110 countries. The ministry is headquartered in Grafton.
On its website, straphaeloil.com, the healing ministry describes itself as a "charitable apostolate dedicated to serving Jesus Christ through spreading his message of love, forgiveness and healing to all people. It is important to acknowledge that all of this comes from the blessings and graces of our dear Lord, Savior and Creator, Jesus Christ. It is through the graces poured out on all of us by Jesus and Mary through the powerful intercession of the Archangel St. Raphael that we are able to offer our services."
The ministry makes bottles of St. Raphael oil, a sacramental, and distributes them with prayers for the intercession of Mary and St. Raphael. Although the oil is never sold, donations are accepted.
Every couple of years, on a holy day, 50-100 volunteers gather at the ministry headquarters in Grafton to prepare the oil and offer prayers. Crushed rose petals from church altars, convents and monasteries and extra virgin olive oil are combined to make the oil. The day-long event generally also includes confessions, Mass, a recitation of the Book of Tobit, the book of the Bible that features St. Raphael the Archangel, a blessing of the oil by a Catholic priest and a healing service.
"God does the healing," Mary Ann Wichmann, the administrator, coordinator and co-director of the ministry, assured. "But he uses the oil as a healing mechanism through the intercession of St. Raphael the Archangel."
Mrs. Wichmann wouldn't have dreamed that she would be a key person in a healing ministry. But after being a lapsed Catholic in young adulthood, the Vermont interior designer had her faith reignited after a cancer scare in 1998 led her to an encounter with a picture of Our Lady of Medjugorje that emitted oil at Little Audrey Santo's Worcester home, a place where many similar unexplained phenomena have occurred.
Then, in 2001, she met Father Whalen when he blessed her hospitalized brother during his recovery from a serious illness.
"He was over his head with everything else he was doing," Mrs. Wichmann said of the priest who had founded the ministry not long after being ordained. "We started working together immediately."
That work included arranging and traveling to healing services with Father Whalen and Father John E. Welch, another healing priest. The services sometimes drew more than 1,000 people, and the priests heard confessions and prayed over each person who needed healing. Mrs. Wichmann was in awe of how jovial, energetic and attentive Father Whalen was at the services.
"He was an amazing human being," she said.
Since Father Whalen died, Mrs. Wichmann has been running the ministry along with Raymond and Marguerite Baril, of North Grafton.
"He brought us all together," she said, referring to God. "Pardon the pun, but we're like a well-oiled machine."
Mr. and Mrs. Baril joined the ministry in 2007 after Mr. Baril – while in a medically induced coma due to a lung condition – was anointed with the oil by his wife. Mrs. Baril had received the oil from a former nun who attended the couple's monthly rosary group.
After making several trips to Medjugorje, Mr. Baril developed a devotion to Mary. He said he had unforgettable dreams while hospitalized. One featured Mary walking with a basket of olive branches, and she told Mr. Baril that she was there to bring peace.
But it was another that had an even greater impact on him.
"I went over to the other side, and I was being held by the Blessed Mother," Mr. Baril said, noting that she gave him the chance to go with her to heaven or "go back and bring souls back to her son." He added, "The feeling of love was in your entire being. I think the body can't handle it. The soul can handle it."
Later that year, after travelling to Medjugorje again, the couple decided to learn more about the mysterious oil. Since the ministry had grown tremendously, the couple offered the use of part of their business property, Temp-Flex in South Grafton, for healing services, and they became co-directors. Along with 12 dedicated volunteers, they store, process and ship bottles of oil and the accompanying resources.
The growing ministry has shipped orders to every U.S. state in addition to 109 countries. It also has distributors in Ireland, Philippines and Australia. About 3,000 to 4,000 bottles are shipped each month.
"We pray for all the people," Mrs. Baril said. "Our work is a labor of love."
The volunteers who process the orders enjoy the work. Mrs. Baril's sister, Jeanne Ducasse, is one of them.
"It gives them a lot of hope," she said of the people who receive the oil. She added, "I'm so thankful to be able to do it."
Thanks to Catholic priests who hold healing services using the oil, even more people benefit from the ministry.
Father Laurence V. Brault, the pastor at St. Gabriel the Archangel Parish in Upton, recently returned to holding a regular healing service, Mass and confession, at 7 p.m. on the second Thursday of every month. (July 14 is the next service.) Father Brault stresses that the oil being used is a sacramental and should not be mistaken as a substitute for the sacrament of the anointing of the sick.
Father Brault said that he was approached by the ministry in 2011 and asked if it could hold healing services at his parish.
"In the construction of the church, I had received several signs indicating that the new church would be a place of healing, and so I was filled with much joy when this request was made and immediately welcomed the ministry into the parish," Father Brault said, and "found that these healing services revealed a great powerful spiritual grace for those coming."
After Father Whalen died, Father Brault was asked to consider conducting the services. After much prayer and discernment, he agreed.
"These services offer a prayerful and spiritual opportunity to experience God's healing presence and power and have become meaningful for those who come," Father Brault said. "We also indicate that the healing that is prayed for is … for not only physical illness but also spiritual, emotional, and psychological illness."
Father Brault noted that several people "credit the prayer and anointing as the reason for the maintenance of their health … as well as the spiritual comfort they have received and the hope that has been regenerated for them. For these reasons, conducting these healing services has become an important part of the parish's schedule of ministerial activity."
As the ministry continues to thrive, its leaders hope that it continues to not only heal, but to bring people to God.
"As long as the ministry keeps growing, it's what God the Father wants," Mrs. Wichmann said. "Whatever he wants, that's what we'll do."
The St. Raphael oil can be ordered on the ministry's website, by calling 802-343-0573 or by mail at: ASRHHM, po Box 234, South Grafton, MA 01560.