The Twelve drove out many demons,
and they anointed with oil many who were sick and cured them.
Mark 6:13
The month of February is dedicated to the Holy Family. This year the entire month of February falls within the liturgical season of Ordinary Time which is represented by the liturgical color green. Green, the symbol of hope, is the color of the sprouting seed and arouses in the faithful the hope of reaping the eternal harvest of heaven, especially the hope of a glorious resurrection.
The Holy Father's Intentions for the Month of February 2019
Human Trafficking: For a generous welcome to the victims of human trafficking, enforced prostitution, and violence. (See also Apostleship of Prayer)
Ordinary Time: February 16
Saturday of the Fifth Week of Ordinary Time
Historically today is the feast of St. Juliana, a Christian virgin of Cumae, Italy, martyred for the faith when she refused to marry a Roman prefect. She suffered terrible ordeals and was finally beheaded. One tradition reports that Juliana actually suffered martyrdom at Nicomedia and that her relics were transferred to Cumae. It is also the feast of St. Onesimus martyr and former slave. He is mentioned in St. Paul's Letter to Philemon as the slave of Philemon in Colossae, Phrygia, who ran away.
---
St. Juliana
St. Juliana suffered martyrdom during the Diocletian persecution. Both the Latin and Greek Churches mention a holy martyr Juliana in their lists of saints. The oldest historical notice of her is found in the "Martryologium Hieronymianum" for 16 February, the place of birth being given as Cumae in Campania (In Campania Cumbas, natale Julianae). It is true that the notice is contained only in the one chief manuscript of the above-named martyrology (the Codex Epternacensis), but that this notice is certainly authentic is clear from a letter of St. Gregory the Great, which testifies to the special veneration of St. Juliana in the neighbourhood of Naples. A pious matron named Januaria built a church on one of her estates, for the consecration of which she desired relics (sanctuaria, that is to say, objects which had been brought into contact with the graves) of Sts. Severinus and Juliana. Gregory wrote to Fortunatus, Bishop of Naples, telling him to accede to the wishes of Januaria ("Gregorii Magni epist.", lib. IX, ep. xxxv, in Migne P.L., LXXXVII, 1015).
The Acts of St. Juliana used by Bede in his "Martyrologium" are purely legendary. According to the account given in this legend, St. Juliana lived in Nicomedia and was betrothed to the Senator Eleusius. Her father Africanus was a pagan and hostile to the Christians. In the persecution of Maximianus, Juliana was beheaded after suffering frightful torturers. Soon after a noble lady, named Sephonia, came through Nicomedia and took the saint's body with her to Italy, and had it buried in Campania. Evidently it was this alleged translation that caused the martyred Juliana, honoured in Nicomedia, to be identified with St. Juliana of Cumae, although they are quite distinct persons. The veneration of St. Juliana of Cumae became very widespread, especially in the Netherlands. At the beginning of the thirteenth century her remains were transferred to Naples. The description of this translation by a contemporary writer is still extant. The feast of the saint is celebrated in the Latin Church on 16 February, in the Greek on 21 December. Her Acts describe the conflicts which she is said to have with the devil; she is represented in pictures with a winged devil whom she leads by a chain.
— Excerpted from The Catholic Encyclopedia
---
St. Onesimus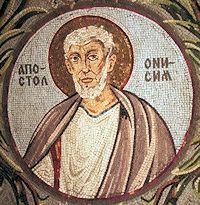 St. Onesimus was a slave to Philemon, an influential man who had been converted by St. Paul. Onesimus offended Philemon and fled in order to escape any sort of retribution. He then met St. Paul while Paul was in a Roman prison. Shortly after, Onesimus was baptized.
Paul then sent a letter to Philemon asking for Onesimus' freedom, so Onesimus could become one of his own assistants. This letter is the Epistle to Philemon and entreats Philemon to accept Onesimus "no longer as a slave, but more than a slave, a brother, beloved especially to me."
Philemon pardoned Onesimus and he returned to faithfully serve St. Paul. We know that St. Paul made him, with Tychicus, the bearer of his Epistle to the Colossians. (Col. 4:7-9)
Later, as St. Jerome and other fathers testify, he became an ardent preacher of the Gospel and succeeded St. Timothy as bishop of Ephesus.
He was cruelly tortured in Rome, for 18 days, by a governor who was infuriated by his preaching on the merit of celibacy. Onesimus' legs and thighs were broken with bludgeons before he was stoned to death.
His martyrdom occurred under Domitian in the year 90.
Excerpted from Catholic News Agency
https://www.catholicculture.org/culture/liturgicalyear/calendar/day.cfm?date=2019-02-16
Meditation: Genesis 3:9-24
Common of the Blessed Virgin Mary
The Lord God made leather garments, with which he clothed them. (Genesis 3:21)
This conversation between God and our first parents sounds a little ominous, doesn't it? When you hear God call, "Where are you?" you might picture an angry parent, ready to punish his wayward children (Genesis 3:9). Maybe you remember similar times when you had to own up to something, like speeding on the highway or lying to your spouse. But that's only if we read this story quickly. A closer read shows a God who is concerned for his creation and who takes care of his children even in their failures.
Notice first that God doesn't begin by correcting Adam and Eve. He first seeks them out. He asks, "Where are you?" even though he knows exactly where they are. His question is aimed more at the couple—they are the ones who don't realize that they are lost. So he calls out, asking them to come back to him. Then, after telling them what they have brought upon themselves by their sin, he immediately speaks words of hope: one of the woman's offspring will strike at the head of the serpent, finally removing the one who caused all the trouble.
Next, we see God caring not only about their future redemption but about their present situation. Seeing their feeble attempt to cover their nakedness with fig leaves, he clothes them properly with leather garments. What a beautiful image! A father clothing his children because they aren't yet able to do it themselves.
Finally, God banishes them from the garden and places angels to protect them from the tree of life. Like a parent who wants to keep a child from burning his hand a second time, God prevents them from losing their way forever. He chooses not to destroy the tree of life; he still keeps the possibility of eternal life open for them when they are ready to eat its fruit.
This same God who loved our first parents loves you just as much. Even today, he is calling out to you, asking you to come back to him. Even today, he will forgive your sins and clothe you with the dignity of a child of God. Even today, he will help you steer clear of temptation Where are you?
"Father, keep drawing me back to you so that I can be safe by your side."
Psalm 90:2-6, 12-13
Mark 8:1-10
Feast Days and Holy Days of Obligation for 2019
In addition to EVERY SUNDAY
The Holy Days of Obligation are the days

(outside of Sundays)

on which Catholics gather together to celebrate the mysteries of our faith as a community. This "obligation" is familial because we are responsible as a family of faith in mutually supporting one another. Gathering together in our parishes and communities on Sundays and Holy Days of Obligation helps us to "encourage one another and build one another up…"
(1 Thessalonians 5:11)
Holy Days for 2019*
Tuesday, January 1, 2019

– Solemnity of Mary, Mother of God


Thursday, May 30, 2019

– Ascension of the Lord – a holy day of obligation

Thursday, August 15, 2019

– Assumption of Mary – a holy day of obligation

Friday, November 1, 2019

– All Saints – a holy day of obligation

Monday, December 9, 2019

– Immaculate Conception – a holy day of obligation

Wednesday, December 25, 2019

– Christmas – always a holy day

Wednesday, January 1, 2020

– Solemnity of Mary, Mother of God
*Whenever January 1, the Solemnity of Mary, Mother of God, or August 15, the Solemnity of the Assumption, or November 1, the Solemnity of All Saints, falls on a Saturday or on a Monday, the precept to attend Mass is abrogated.
Other important liturgical days:
Ash Wednesday: March 6, 2019
Palm Sunday: April 14, 2019
Holy Thursday: April 18, 2019
Good Friday: April 19, 2019
Easter Sunday: April 21, 2019
Pentecost Sunday: June 9 , 2019
The Most Holy Body and Blood of Christ: Sunday,June 23, 2019
The Most Sacred Heart of Jesus: Friday, June 28, 2019
First Sunday of Advent: December 1, 2019
The

Eight Beatitudes

form the core of the Christian life. As Fr. John A. Hardon, S.J., writes in his Modern Catholic Dictionary, they are the "

promises of happiness

made by Christ to those who faithfully accept his teaching and follow his divine example." That happiness is not in the future but

now

for those who conform their lives to Christ.
Blessed are the poor in spirit, for theirs is the kingdom of heaven.
Blessed are those who mourn, for they shall be comforted.
Blessed are the meek, for they shall inherit the earth.
Blessed are those who hunger and thirst for righteousness, for they shall be satisfied.
Blessed are the merciful, for they shall obtain mercy.
Blessed are the pure in heart, for they shall see God.
Blessed are the peacemakers, for they shall be called sons of God.

Blessed are those who are persecuted for righteousness' sake, for theirs is the kingdom of heaven.

Blessed are you when men revile you and persecute you and utter all kinds of evil against you falsely on my account. Rejoice and be glad, for your reward is great in heaven."
The "Angelus"
Powerful Daily Prayer
This wonderful prayer evolved from a recitation of three Hail Mary's following an evening bell around the 12th century to its present form (with morning and midday recitations) in the 16th century.
V. The Angel of the Lord declared unto Mary.
R. And she conceived of the Holy Spirit.
Hail Mary, full of grace,
The Lord is with Thee;
Blessed art thou among women,
And blessed is the fruit of thy womb, Jesus.
Holy Mary, Mother of God,
Pray for us sinners,
Now and at the hour of our death. Amen
V. Behold the handmaid of the Lord.
R. Be it done unto me according to thy word.
Hail Mary, etc.
V. And the Word was made Flesh.
R. And dwelt among us.
Hail Mary, etc.
V. Pray for us, O holy Mother of God.
R. That we may be made worthy of the promises of Christ.
LET US PRAY
Pour forth, we beseech Thee, O Lord, Thy grace into our hearts, that we to whom the Incarnation of Christ Thy Son was made known by the message of an angel, may by His Passion and Cross be brought to the glory of His Resurrection. Through the same Christ Our Lord. Amen.
May the Divine assistance remain always with us and may the souls of the faithful departed, through the mercy of God, rest in peace. Amen.
When prayed in a group setting a leader recites the verses and everyone recites both the responses and the Hail Mary's in between each verse, as shown above.
Although the Angelus has been traditionally said three times daily, at 6 am, noon and 6 pm, you can pray it at anytime especially at NOON. It is still accompanied by the ringing of a bell (the Angelus bell) in some places such as Vatican City and parts of Germany and Ireland.

The Divine Praises
Blessed be God.
Blessed be His Holy Name.
Blessed be Jesus Christ, true God and true man.
Blessed be the name of Jesus.
Blessed be His Most Sacred Heart.
Blessed be Jesus in the Most Holy Sacrament of the Altar.
Blessed be the Holy Spirit, the paraclete.
Blessed be the great Mother of God, Mary most holy.
Blessed be her holy and Immaculate Conception.
Blessed be her glorious Assumption.
Blessed be the name of Mary, Virgin and Mother.
Blessed be Saint Joseph, her most chaste spouse.
Blessed be God in His angels and in His Saints.
May the heart of Jesus, in the Most Blessed Sacrament, be praised, adored, and loved with grateful affection, at every moment, in all the tabernacles of the world, even to the end of time. Amen

PRAYER TO THE INFANT OF PRAGUE

O Infant of Prague, who said, "The more you honor me, the more I will bless you," give us the strength to bear the burden of daily life in this sinful world. Give us a firm purpose of amendment and a resolve to lead a better life. Help us endure our afflictions and sorrows with patience and courage. Finally, O beloved Infant King if it be your will grant my petition (mention petition here). But whatever you choose, give me the strength to submit to your will in all things. Amen.

LORD, JESUS CHRIST, I AM DEEPLY SORRY FOR MY SINS. HAVE MERCY ON ME. In Your name, JESUS, I ask You for the grace to forgive myself. I ask your forgiveness for hurting others. I ask for the grace to forgive all those who have hurt me in this life, and especially the one person who has hurt me the most. I renounce forever Satan, ALL the evil spirits and all their works. I give you my entire self Lord JESUS, now and forever, you are my Lord, God, SAVIOR AND REDEEMER. Please heal me, change me, strengthen me in body, mind and spirit for my greater service in Your Kingdom. Allow me to lead other souls to You through my good example. JESUS I trust in you! Come Lord JESUS, cover me with Your most precious blood, and fill me with Your Holy Spirit, I praise You, I thank You, I glorify Your name, JESUS. I love You JESUS WITH MY WHOLE HEART, SOUL, MIND, BODY AND MY WHOLE BEING. O' Blessed Virgin Mary, Mother of God, with Holy Raphael the Archangel and all the holy Angels and Saints, pray for us! Amen
Holy Raphael says in Chapter 12 in the
BOOK OF TOBIT 12:7-10
7 A king's secret it is prudent to keep, but the works of God are to be declared and made known. Praise them with due honor. Do good, and evil will not find its way to you.
8 Prayer and fasting are good, but better than either is almsgiving accompanied by righteousness. A little with righteousness is better than abundance with wickedness. It is better to give alms than to store up gold;
We must work in the Vineyard and

not return to GOD with empty hands!
To feed the hungry;
To give drink to the thirsty;
To clothe the naked;
To visit the imprisoned;
To visit the sick;
To shelter the homeless;
To bury the dead.
To instruct the ignorant;
To counsel the doubtful;
To admonish the sinner;
To bear wrongs patiently;
To forgive offences willingly;
To comfort the sorrowful;
To pray for the living and the dead.
44 Messianic Prophecies of Jesus
Prophecies of Jesus
Old Testament
Scripture
New Testament
Fulfillment
1
Messiah would be born of a woman.
Genesis 3:15
Matthew 1:20
Galatians 4:4
2
Messiah would be born in Bethlehem.
Micah 5:2
Matthew 2:1
Luke 2:4-6
3
Messiah would be born of a virgin.
Isaiah 7:14
Matthew 1:22-23
Luke 1:26-31
4
Messiah would come from the line ofAbraham.
Genesis 12:3
Genesis 22:18
Matthew 1:1
Romans 9:5
5
Messiah would be a descendant of Isaac.
Genesis 17:19
Genesis 21:12
Luke 3:34
6
Messiah would be a descendant of Jacob.
Numbers 24:17
Matthew 1:2
7
Messiah would come from the tribe of Judah.
Genesis 49:10
Luke 3:33
Hebrews 7:14
8
Messiah would be heir to King David's throne.
2 Samuel 7:12-13
Isaiah 9:7
Luke 1:32-33
Romans 1:3
9
Messiah's throne will be anointed and eternal.
Psalm 45:6-7
Daniel 2:44
Luke 1:33
Hebrews 1:8-12
10
Messiah would be called Immanuel.
Isaiah 7:14
Matthew 1:23
11
Messiah would spend a season in Egypt.
Hosea 11:1
Matthew 2:14-15
12
A massacre of children would happen at Messiah's birthplace.
Jeremiah 31:15
Matthew 2:16-18
13
A messenger would prepare the way for Messiah
Isaiah 40:3-5
Luke 3:3-6
14
Messiah would be rejected by his own people.
Psalm 69:8
Isaiah 53:3
John 1:11
John 7:5
15
Messiah would be a prophet.
Deuteronomy 18:15
Acts 3:20-22
16
Messiah would be preceded by Elijah.
Malachi 4:5-6
Matthew 11:13-14
17
Messiah would be declared the Son of God.
Psalm 2:7
Matthew 3:16-17
18
Messiah would be called a Nazarene.
Isaiah 11:1
Matthew 2:23
19
Messiah would bring light to Galilee.
Isaiah 9:1-2
Matthew 4:13-16
20
Messiah would speak in parables.
Psalm 78:2-4
Isaiah 6:9-10
Matthew 13:10-15, 34-35
21
Messiah would be sent to heal the brokenhearted.
Isaiah 61:1-2
Luke 4:18-19
22
Messiah would be a priest after the order of Melchizedek.
Psalm 110:4
Hebrews 5:5-6
23
Messiah would be called King.
Psalm 2:6
Zechariah 9:9
Matthew 27:37
Mark 11:7-11
24
Messiah would be praised by little children.
Psalm 8:2
Matthew 21:16
25
Messiah would be betrayed.
Psalm 41:9
Zechariah 11:12-13
Luke 22:47-48
Matthew 26:14-16
26
Messiah's price money would be used to buy a potter's field.
Zechariah 11:12-13
Matthew 27:9-10
27
Messiah would be falsely accused.
Psalm 35:11
Mark 14:57-58
28
Messiah would be silent before his accusers.
Isaiah 53:7
Mark 15:4-5
29
Messiah would be spat upon and struck.
Isaiah 50:6
Matthew 26:67
30
Messiah would be hated without cause.
Psalm 35:19
Psalm 69:4
John 15:24-25
31
Messiah would be crucified with criminals.
Isaiah 53:12
Matthew 27:38
Mark 15:27-28
32
Messiah would be given vinegar to drink.
Psalm 69:21
Matthew 27:34
John 19:28-30
33
Messiah's hands and feet would be pierced.
Psalm 22:16
Zechariah 12:10
John 20:25-27
34
Messiah would be mocked and ridiculed.
Psalm 22:7-8
Luke 23:35
35
Soldiers would gamble for Messiah's garments.
Psalm 22:18
Luke 23:34
Matthew 27:35-36
36
Messiah's bones would not be broken.
Exodus 12:46
Psalm 34:20
John 19:33-36
37
Messiah would be forsaken by God.
Psalm 22:1
Matthew 27:46
38
Messiah would pray for his enemies.
Psalm 109:4
Luke 23:34
39
Soldiers would pierce Messiah's side.
Zechariah 12:10
John 19:34
40
Messiah would be buried with the rich.
Isaiah 53:9
Matthew 27:57-60
41
Messiah would resurrect from the dead.
Psalm 16:10
Psalm 49:15
Matthew 28:2-7
Acts 2:22-32
42
Messiah would ascend to heaven.
Psalm 24:7-10
Mark 16:19
Luke 24:51
43
Messiah would be seated at God's right hand.
Psalm 68:18
Psalm 110:1
Mark 16:19
Matthew 22:44
44
Messiah would be a sacrifice for sin.
Isaiah 53:5-12
Romans 5:6-8
MIRACLES OF JESUS CHRIST

Healing Miracles

| | | | | |
| --- | --- | --- | --- | --- |
| Recipient | Matthew | Mark | Luke | John |
| Official's son | | | | 4:46-54 |
| Possessed man | | 1:21-27 | 4:33-37 | |
| Peter's in-law | 8:14-15 | 1:29-31 | 4:38-39 | |
| Many at sunset | 8:16-17 | 1:32-39 | 4:40-41 | |
| Leper | 8:1-4 | 1:40-45 | 5:12-15 | |
| Paralytic | 9:1-8 | 2:1-12 | 5:18-26 | |
| Man at Bethesda | | | | 5:1-17 |
| Withered hand | 12:9-13 | 3:1-6 | 6:6-11 | |
| Crowd in Galilee | 4:23-25 | | | |
| Centurion's son | 8:5-13 | | 7:1-10 | |
| Widow's son | | | 7:11-17 | |
| 2 demoniacs | 8:28-34 | 5:1-20 | 8:26-39 | |
| Jairus daughter-1 | 9:18-19 | 5:22-24 | 8:41-42 | |
| Unclean woman | 9:20-22 | 5:24-34 | 8:49-56 | |
| Jairus daughter-2 | 9:23-26 | 5:35-43 | 8:49-56 | |
| 2 blind men | 9:27-31 | | | |
| Dumb man | 9:32-34 | | | |
| Touching clothes | 14:34-36 | 6:53-56 | | |
| Crowd in Galilee | 9:35 | | | |
| Few in Nazareth | | 6:1-6 | | |
| Gentile's daughter | 15:21-28 | 7:24-30 | | |
| Deaf man | | 7:31-37 | | |
| Multitude | 15:29-31 | | | |
| Epileptic boy | 17:14-21 | 9:14-29 | 9:37-42 | |
| Blind man | | | | 9:1-41 |
| Blind/dumb man | 12:22-24 | | 11:14-15 | |
| Man of Bethsaida | | 8:22-26 | | |
| Stooped woman | | | 13:10-17 | |
| Manwith Dropsy | | | 14:1-16 | |
| Lazarus raised | | | | 11:1-45 |
| Ten Lepers | | | 17:11-19 | |
| Crowds in Judea | 19:1-2 | | | |
| Bartimaeus | 20:29-34 | 10:46-52 | 18:35-43 | |
| Many in Jerusalem | 21:14 | | | |
| Ear of Malchus | | | 22:47-53 | 18:10-11 |
| Resurrection | 28:1-10 | 16:1-20 | 24:1-53 | 20:1-31 |

Other Miracles

| | | | | |
| --- | --- | --- | --- | --- |
| Event | Matthew | Mark | Luke | John |
| Water to wine | | | | 2:1-11 |
| 1st catch of fish | | | 5:1-11 | |
| Calms a sea | 8:23-27 | 4:35-41 | 8:22-25 | |
| Feeds 5000 | 14:13-21 | 6:32-44 | 9:10-17 | 6:1-13 |
| Walks on water | 14:22-33 | 6:45-51 | | 6:15-21 |
| Feeds 4000 | 15:32-39 | 8:1-10 | | |
| Money in fish | 17:24-27 | | | |
| Tree withered | 21:18-22 | 11:12-24 | | |
| 2nd catch of fish | | | | 21:1-14 |