The Twelve drove out many demons,
and they anointed with oil many who were sick and cured them.
Mark 6:13
The month of August is dedicated to The Immaculate Heart of Mary. The entire month falls within the liturgical season of Ordinary Time, which is represented by the liturgical color green. This symbol of hope is the color of the sprouting seed and arouses in the faithful the hope of reaping the eternal harvest of heaven, especially the hope of a glorious resurrection. It is used in the offices and Masses of Ordinary Time. The last portion of the liturgical year represents the time of our pilgrimage to heaven during which
The Holy Father's Intentions for the Month of August 2019
Families, Schools of Human Growth: That families, through their life of prayer and love, become ever more clearly "schools of true human growth". (See also Pope's Worldwide Prayer Network
August 8th, marked the 4th anniversary of the our founder, Fr. Joe Whalen's, passing into eternal life. We ask his intercession for all our special intentions today and everyday! We miss you so much!

Ordinary Time:
August 23
Friday of the Twentieth Week of Ordinary Time; Optional Memorial of St. Rose of Lima, virgin
The first canonized saint of the Western Hemisphere, Rose of Lima (1586-1617) might also be considered a type of the special vocation of contemplative-in-the-world. Inspired by the example of St. Catherine of Siena, Rose became a Dominican lay tertiary and devoted herself to works of active charity while living a life of extreme austerity. She longed to evangelize the Indians, not at all discouraged by the thought that they would probably kill her. St. Martin de Porres and St. John Masias were among her friends. She died at the age of 31, praying, "Lord, increase my sufferings, and with them increase your love in my heart."
Before the reform of the General Roman Calendar St. Rose's feast was celebrated on August 30. Today was the feast of St. Philip Benize, who was born in Florence of the noble Benizi family on the feast of the Assumption, and died on the octave of the Assumption in Todi, Italy. A man of unusual ability, he took a medical course in Padua, and practiced medicine in Florence. But the medical profession left him dissatisfied, and he joined the Servite Order as a lay brother, performing the most humble tasks in the monastery. Ordained a priest out of obedience, he became master of novices and finally general of the Order. He restored peace in the civil wars of Italy, and assisted at the Ecumenical Council of Lyons. Amid all these honors, he lived a life of great humility always considering himself as the worst of sinners and deserving the punishment of hell.
---
St. Rose of Lima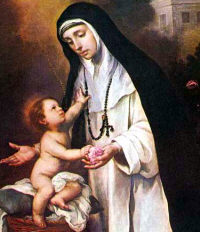 Rose of Lima, a member of the Third Order of St. Dominic, was the "first blossom of sanctity that South America gave to the world." Hers was a life heroic in virtue and penance. She expiated the evils perpetrated by the conquerors of the land in their lust for gold. For many her life was a silent sermon of penance. Pope Clement X stated in the bull of canonization: "Since the discovery of Peru no missionary has arisen who effected a similar popular zeal for the practice of penance."
Already as a five-year-old child (born 1586), Rose vowed her innocence to God. While still a young girl, she practiced mortifications and fasts that exceeded ordinary discretion; during all of Lent she ate no bread, but subsisted on five citron seeds a day. In addition, she suffered repeated attacks from the devil, painful bodily ailments, and from her family, scoldings and calumnies. All this she accepted serenely, remarking that she was treated better than she deserved. For fifteen years she patiently endured the severest spiritual abandonment and aridity. In reward came heavenly joys, the comforting companionship of her holy guardian angel and of the Blessed Virgin. August 24, 1617, proved to be the day "on which the paradise of her heavenly Bridegroom unlocked itself to her."
Excerpted from The Church's Year of Grace, Pius Parsch
Patron: Against vanity; Americas; Central America; embroiderers; florists; gardeners; India; Latin America; needle workers; New World; people ridiculed for their piety; Peru; Phillipines; diocese of Santa Rosa, California; South America; vanity; Villareal Samar, Phillipines; West Indies.
Symbols: Crown of roses and thorns; needle and thimble; spiked crown; iron chain; Anchor Holy Infant; roses.
Often Portrayed As: Dominican tertiary holding roses; Dominican tertiary accompanied by the Holy Infant.
Things to Do:
---
St. Philip Benize (or Benozzi)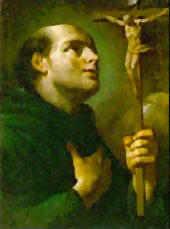 St. Philip had special talents for leadership and organization; he was the second founder of the Servites and a great missioner. Of him the Breviary says: "His love and sympathetic consideration for the poor was truly remarkable. On one occasion he gave his own clothing to a destitute leper at Camiliano, a village near Siena, and immediately the poor, sick beggar was healed. The report of the miracle spread far and wide, and many of the cardinals who had assembled at Viterbo after the death of Clement IV (1268) for the election of Christendom's chief shepherd were minded to choose Philip, whose angelic life and mature wisdom were universally acknowledged. But as soon as the saint became aware of this, he went into hiding upon a hill until Gregory X (1271-1276) had been elected; for he sought to be spared that burdensome dignity."
Philip died at Todi in Tuscany. During his last hours he requested the attending Brother to bring him his book. The Brother did not understand what he meant. "The crucifix," the saint added. That was the book the saint had studied all the days of his life.
Excerpted from The Church's Year of Grace, Pius Parsch
Patron: Sergio Osmena, Zamboanga del Norte, Philippines.
Symbols: Chariot; olive branch; red robes; surgical instruments; two angels holding three crowns.
Things to Do:
In the former Collect for St. Philip, the Church focused attention upon humility as our saint's most noteworthy virtue: "In the life of St. Philip You have provided for us a splendid example of humility." The manual from which he learned this virtue was the Crucifix. Say the Prayer Before A Crucifix and spend a little time meditating on Our Lord's humility.
Feast Days and Holy Days of Obligation for 2019
In addition to EVERY SUNDAY
The Holy Days of Obligation are the days

(outside of Sundays)

on which Catholics gather together to celebrate the mysteries of our faith as a community. This "obligation" is familial because we are responsible as a family of faith in mutually supporting one another. Gathering together in our parishes and communities on Sundays and Holy Days of Obligation helps us to "encourage one another and build one another up…"
(1 Thessalonians 5:11)
Holy Days for 2019*
Tuesday, January 1, 2019

– Solemnity of Mary, Mother of God


Thursday, May 30, 2019

– Ascension of the Lord – a holy day of obligation

Thursday, August 15, 2019

– Assumption of Mary – a holy day of obligation

Friday, November 1, 2019

– All Saints – a holy day of obligation

Monday, December 9, 2019

– Immaculate Conception – a holy day of obligation

Wednesday, December 25, 2019

– Christmas – always a holy day

Wednesday, January 1, 2020

– Solemnity of Mary, Mother of God
*Whenever January 1, the Solemnity of Mary, Mother of God, or August 15, the Solemnity of the Assumption, or November 1, the Solemnity of All Saints, falls on a Saturday or on a Monday, the precept to attend Mass is abrogated.
Other important liturgical days:
Ash Wednesday: March 6, 2019
Palm Sunday: April 14, 2019
Holy Thursday: April 18, 2019
Good Friday: April 19, 2019
Easter Sunday: April 21, 2019
Pentecost Sunday: June 9 , 2019
The Most Holy Body and Blood of Christ: Sunday,June 23, 2019
The Most Sacred Heart of Jesus: Friday, June 28, 2019
First Sunday of Advent: December 1, 2019
The

Eight Beatitudes

form the core of the Christian life. As Fr. John A. Hardon, S.J., writes in his Modern Catholic Dictionary, they are the "

promises of happiness

made by Christ to those who faithfully accept his teaching and follow his divine example." That happiness is not in the future but

now

for those who conform their lives to Christ.
Blessed are the poor in spirit, for theirs is the kingdom of heaven.
Blessed are those who mourn, for they shall be comforted.
Blessed are the meek, for they shall inherit the earth.
Blessed are those who hunger and thirst for righteousness, for they shall be satisfied.
Blessed are the merciful, for they shall obtain mercy.
Blessed are the pure in heart, for they shall see God.
Blessed are the peacemakers, for they shall be called sons of God.

Blessed are those who are persecuted for righteousness' sake, for theirs is the kingdom of heaven.

Blessed are you when men revile you and persecute you and utter all kinds of evil against you falsely on my account. Rejoice and be glad, for your reward is great in heaven."
The "Angelus"
Powerful Daily Prayer
This wonderful prayer evolved from a recitation of three Hail Mary's following an evening bell around the 12th century to its present form (with morning and midday recitations) in the 16th century.
V. The Angel of the Lord declared unto Mary.
R. And she conceived of the Holy Spirit.
Hail Mary, full of grace,
The Lord is with Thee;
Blessed art thou among women,
And blessed is the fruit of thy womb, Jesus.
Holy Mary, Mother of God,
Pray for us sinners,
Now and at the hour of our death. Amen
V. Behold the handmaid of the Lord.
R. Be it done unto me according to thy word.
Hail Mary, etc.
V. And the Word was made Flesh.
R. And dwelt among us.
Hail Mary, etc.
V. Pray for us, O holy Mother of God.
R. That we may be made worthy of the promises of Christ.
LET US PRAY
Pour forth, we beseech Thee, O Lord, Thy grace into our hearts, that we to whom the Incarnation of Christ Thy Son was made known by the message of an angel, may by His Passion and Cross be brought to the glory of His Resurrection. Through the same Christ Our Lord. Amen.
May the Divine assistance remain always with us and may the souls of the faithful departed, through the mercy of God, rest in peace. Amen.
When prayed in a group setting a leader recites the verses and everyone recites both the responses and the Hail Mary's in between each verse, as shown above.
Although the Angelus has been traditionally said three times daily, at 6 am, noon and 6 pm, you can pray it at anytime especially at NOON. It is still accompanied by the ringing of a bell (the Angelus bell) in some places such as Vatican City and parts of Germany and Ireland.

The Divine Praises
Blessed be God.
Blessed be His Holy Name.
Blessed be Jesus Christ, true God and true man.
Blessed be the name of Jesus.
Blessed be His Most Sacred Heart.
Blessed be Jesus in the Most Holy Sacrament of the Altar.
Blessed be the Holy Spirit, the paraclete.
Blessed be the great Mother of God, Mary most holy.
Blessed be her holy and Immaculate Conception.
Blessed be her glorious Assumption.
Blessed be the name of Mary, Virgin and Mother.
Blessed be Saint Joseph, her most chaste spouse.
Blessed be God in His angels and in His Saints.
May the heart of Jesus, in the Most Blessed Sacrament, be praised, adored, and loved with grateful affection, at every moment, in all the tabernacles of the world, even to the end of time. Amen

PRAYER TO THE INFANT OF PRAGUE

O Infant of Prague, who said, "The more you honor me, the more I will bless you," give us the strength to bear the burden of daily life in this sinful world. Give us a firm purpose of amendment and a resolve to lead a better life. Help us endure our afflictions and sorrows with patience and courage. Finally, O beloved Infant King if it be your will grant my petition (mention petition here). But whatever you choose, give me the strength to submit to your will in all things. Amen.

LORD, JESUS CHRIST, I AM DEEPLY SORRY FOR MY SINS. HAVE MERCY ON ME. In Your name, JESUS, I ask You for the grace to forgive myself. I ask your forgiveness for hurting others. I ask for the grace to forgive all those who have hurt me in this life, and especially the one person who has hurt me the most. I renounce forever Satan, ALL the evil spirits and all their works. I give you my entire self Lord JESUS, now and forever, you are my Lord, God, SAVIOR AND REDEEMER. Please heal me, change me, strengthen me in body, mind and spirit for my greater service in Your Kingdom. Allow me to lead other souls to You through my good example. JESUS I trust in you! Come Lord JESUS, cover me with Your most precious blood, and fill me with Your Holy Spirit, I praise You, I thank You, I glorify Your name, JESUS. I love You JESUS WITH MY WHOLE HEART, SOUL, MIND, BODY AND MY WHOLE BEING. O' Blessed Virgin Mary, Mother of God, with Holy Raphael the Archangel and all the holy Angels and Saints, pray for us! Amen
Holy Raphael says in Chapter 12 in the
BOOK OF TOBIT 12:7-10
7 A king's secret it is prudent to keep, but the works of God are to be declared and made known. Praise them with due honor. Do good, and evil will not find its way to you.
8 Prayer and fasting are good, but better than either is almsgiving accompanied by righteousness. A little with righteousness is better than abundance with wickedness. It is better to give alms than to store up gold;
We must work in the Vineyard and

not return to GOD with empty hands!
To feed the hungry;
To give drink to the thirsty;
To clothe the naked;
To visit the imprisoned;
To visit the sick;
To shelter the homeless;
To bury the dead.
To instruct the ignorant;
To counsel the doubtful;
To admonish the sinner;
To bear wrongs patiently;
To forgive offences willingly;
To comfort the sorrowful;
To pray for the living and the dead.
44 Messianic Prophecies of Jesus
Prophecies of Jesus
Old Testament
Scripture
New Testament
Fulfillment
1
Messiah would be born of a woman.
Genesis 3:15
Matthew 1:20
Galatians 4:4
2
Messiah would be born in Bethlehem.
Micah 5:2
Matthew 2:1
Luke 2:4-6
3
Messiah would be born of a virgin.
Isaiah 7:14
Matthew 1:22-23
Luke 1:26-31
4
Messiah would come from the line ofAbraham.
Genesis 12:3
Genesis 22:18
Matthew 1:1
Romans 9:5
5
Messiah would be a descendant of Isaac.
Genesis 17:19
Genesis 21:12
Luke 3:34
6
Messiah would be a descendant of Jacob.
Numbers 24:17
Matthew 1:2
7
Messiah would come from the tribe of Judah.
Genesis 49:10
Luke 3:33
Hebrews 7:14
8
Messiah would be heir to King David's throne.
2 Samuel 7:12-13
Isaiah 9:7
Luke 1:32-33
Romans 1:3
9
Messiah's throne will be anointed and eternal.
Psalm 45:6-7
Daniel 2:44
Luke 1:33
Hebrews 1:8-12
10
Messiah would be called Immanuel.
Isaiah 7:14
Matthew 1:23
11
Messiah would spend a season in Egypt.
Hosea 11:1
Matthew 2:14-15
12
A massacre of children would happen at Messiah's birthplace.
Jeremiah 31:15
Matthew 2:16-18
13
A messenger would prepare the way for Messiah
Isaiah 40:3-5
Luke 3:3-6
14
Messiah would be rejected by his own people.
Psalm 69:8
Isaiah 53:3
John 1:11
John 7:5
15
Messiah would be a prophet.
Deuteronomy 18:15
Acts 3:20-22
16
Messiah would be preceded by Elijah.
Malachi 4:5-6
Matthew 11:13-14
17
Messiah would be declared the Son of God.
Psalm 2:7
Matthew 3:16-17
18
Messiah would be called a Nazarene.
Isaiah 11:1
Matthew 2:23
19
Messiah would bring light to Galilee.
Isaiah 9:1-2
Matthew 4:13-16
20
Messiah would speak in parables.
Psalm 78:2-4
Isaiah 6:9-10
Matthew 13:10-15, 34-35
21
Messiah would be sent to heal the brokenhearted.
Isaiah 61:1-2
Luke 4:18-19
22
Messiah would be a priest after the order of Melchizedek.
Psalm 110:4
Hebrews 5:5-6
23
Messiah would be called King.
Psalm 2:6
Zechariah 9:9
Matthew 27:37
Mark 11:7-11
24
Messiah would be praised by little children.
Psalm 8:2
Matthew 21:16
25
Messiah would be betrayed.
Psalm 41:9
Zechariah 11:12-13
Luke 22:47-48
Matthew 26:14-16
26
Messiah's price money would be used to buy a potter's field.
Zechariah 11:12-13
Matthew 27:9-10
27
Messiah would be falsely accused.
Psalm 35:11
Mark 14:57-58
28
Messiah would be silent before his accusers.
Isaiah 53:7
Mark 15:4-5
29
Messiah would be spat upon and struck.
Isaiah 50:6
Matthew 26:67
30
Messiah would be hated without cause.
Psalm 35:19
Psalm 69:4
John 15:24-25
31
Messiah would be crucified with criminals.
Isaiah 53:12
Matthew 27:38
Mark 15:27-28
32
Messiah would be given vinegar to drink.
Psalm 69:21
Matthew 27:34
John 19:28-30
33
Messiah's hands and feet would be pierced.
Psalm 22:16
Zechariah 12:10
John 20:25-27
34
Messiah would be mocked and ridiculed.
Psalm 22:7-8
Luke 23:35
35
Soldiers would gamble for Messiah's garments.
Psalm 22:18
Luke 23:34
Matthew 27:35-36
36
Messiah's bones would not be broken.
Exodus 12:46
Psalm 34:20
John 19:33-36
37
Messiah would be forsaken by God.
Psalm 22:1
Matthew 27:46
38
Messiah would pray for his enemies.
Psalm 109:4
Luke 23:34
39
Soldiers would pierce Messiah's side.
Zechariah 12:10
John 19:34
40
Messiah would be buried with the rich.
Isaiah 53:9
Matthew 27:57-60
41
Messiah would resurrect from the dead.
Psalm 16:10
Psalm 49:15
Matthew 28:2-7
Acts 2:22-32
42
Messiah would ascend to heaven.
Psalm 24:7-10
Mark 16:19
Luke 24:51
43
Messiah would be seated at God's right hand.
Psalm 68:18
Psalm 110:1
Mark 16:19
Matthew 22:44
44
Messiah would be a sacrifice for sin.
Isaiah 53:5-12
Romans 5:6-8
MIRACLES OF JESUS CHRIST

Healing Miracles

| | | | | |
| --- | --- | --- | --- | --- |
| Recipient | Matthew | Mark | Luke | John |
| Official's son | | | | 4:46-54 |
| Possessed man | | 1:21-27 | 4:33-37 | |
| Peter's in-law | 8:14-15 | 1:29-31 | 4:38-39 | |
| Many at sunset | 8:16-17 | 1:32-39 | 4:40-41 | |
| Leper | 8:1-4 | 1:40-45 | 5:12-15 | |
| Paralytic | 9:1-8 | 2:1-12 | 5:18-26 | |
| Man at Bethesda | | | | 5:1-17 |
| Withered hand | 12:9-13 | 3:1-6 | 6:6-11 | |
| Crowd in Galilee | 4:23-25 | | | |
| Centurion's son | 8:5-13 | | 7:1-10 | |
| Widow's son | | | 7:11-17 | |
| 2 demoniacs | 8:28-34 | 5:1-20 | 8:26-39 | |
| Jairus daughter-1 | 9:18-19 | 5:22-24 | 8:41-42 | |
| Unclean woman | 9:20-22 | 5:24-34 | 8:49-56 | |
| Jairus daughter-2 | 9:23-26 | 5:35-43 | 8:49-56 | |
| 2 blind men | 9:27-31 | | | |
| Dumb man | 9:32-34 | | | |
| Touching clothes | 14:34-36 | 6:53-56 | | |
| Crowd in Galilee | 9:35 | | | |
| Few in Nazareth | | 6:1-6 | | |
| Gentile's daughter | 15:21-28 | 7:24-30 | | |
| Deaf man | | 7:31-37 | | |
| Multitude | 15:29-31 | | | |
| Epileptic boy | 17:14-21 | 9:14-29 | 9:37-42 | |
| Blind man | | | | 9:1-41 |
| Blind/dumb man | 12:22-24 | | 11:14-15 | |
| Man of Bethsaida | | 8:22-26 | | |
| Stooped woman | | | 13:10-17 | |
| Manwith Dropsy | | | 14:1-16 | |
| Lazarus raised | | | | 11:1-45 |
| Ten Lepers | | | 17:11-19 | |
| Crowds in Judea | 19:1-2 | | | |
| Bartimaeus | 20:29-34 | 10:46-52 | 18:35-43 | |
| Many in Jerusalem | 21:14 | | | |
| Ear of Malchus | | | 22:47-53 | 18:10-11 |
| Resurrection | 28:1-10 | 16:1-20 | 24:1-53 | 20:1-31 |

Other Miracles

| | | | | |
| --- | --- | --- | --- | --- |
| Event | Matthew | Mark | Luke | John |
| Water to wine | | | | 2:1-11 |
| 1st catch of fish | | | 5:1-11 | |
| Calms a sea | 8:23-27 | 4:35-41 | 8:22-25 | |
| Feeds 5000 | 14:13-21 | 6:32-44 | 9:10-17 | 6:1-13 |
| Walks on water | 14:22-33 | 6:45-51 | | 6:15-21 |
| Feeds 4000 | 15:32-39 | 8:1-10 | | |
| Money in fish | 17:24-27 | | | |
| Tree withered | 21:18-22 | 11:12-24 | | |
| 2nd catch of fish | | | | 21:1-14 |