The Twelve drove out many demons,
and they anointed with oil many who were sick and cured them.
SEPTEMBER

The month of September is dedicated to
Our Lady of Sorrows
, whose memorial the Church celebrates on September 15. September falls during the liturgical season known as
Tempus per Annum
or
Ordinary Time
(formerly
Time After Pentecost
, which is represented by the liturgical color green. Green is a symbol of hope, as it is the color of the sprouting seed and arouses in the faithful the hope of reaping the eternal harvest of heaven, especially the hope of a glorious resurrection. The liturgical color green is worn during prayer of Offices and Masses of Ordinary Time.
The Holy Father's Intentions for the Month of AUGUST 2022
For the abolition of the death penalty: We pray that the death penalty, which attacks the dignity of the human person, may be legally abolished in every country. (See also http://www.popesprayerusa.net/)
Most Recent Article on the St. Raphael oil from the Catholic Free Press
ORDINARY TIME: SEPTEMBER 25th
Twenty-Sixth Sunday in Ordinary Time
Entrance Antiphon, Dn 3:31, 29, 30, 43, 42:
All that you have done to us, O Lord, you have done with true judgment, for we have sinned against you and not obeyed your commandments. But give glory to your name and deal with us according to the bounty of your mercy.
---
Gospel Verse, Year C: Cf. 2 Cor 8:9:
Though our Lord Jesus Christ was rich, he became poor, so that by his poverty you might become rich.
---
Communion Antiphon, Cf. Ps 119 (118):49-50:
Remember your word to your servant, O Lord, by which you have given me hope. This is my comfort when I am brought low.
---
Gospel Excerpt, Year C, Lk 16:19-31:
There was a rich man who dressed in purple garments and fine linen and dined sumptuously each day. And lying at his door was a poor man named Lazarus, covered with sores, who would gladly have eaten his fill of the scraps that fell from the rich man's table.
---
Communion Antiphon, 1 Jn 3:16:
By this we came to know the love of God: that Christ laid down his life for us; so we ought to lay down our lives for one another.
---
Sunday Readings, Year C:
The First Reading is taken from the Prophet Amos 6:1a, 4-7. This warning of the prophet Amos, who was only an uneducated shepherd before God called him to the prophetic ministry, does not come from Amos but from God, in whose name he spoke. God's Chosen People, to whom he had in his goodness given the land of Canaan to be their homeland for all time, were about to lose their land and their freedom, because they had forgotten their divine Benefactor and thought only of themselves and their own comfort.
The Second Reading is from the First Letter of St. Paul to Timothy 6:11-16. In these verses St. Paul is exhorting Timothy to strive to become daily more perfect in his observance of the Christian faith. He had made a public and noble profession of that faith on the occasion of his baptism as a young man. He must continue to profess it.
The Gospel is from St. Luke 16:19-31. We have here a story of two men whose states, both in this life and in the next, are dramatically opposed. The rich man had everything a man could desire on this earth and he set his heart on this wealth, to such a degree that he excluded all thought of God or of what followed after death. It was not that he was ignorant of God or of a future life (our Lord was addressing the parable to the Pharisees); he admits that he had Moses and the prophets, but he paid no heed to them. He was too busy trying to squeeze the last ounce of pleasure out of his few years on earth.
On the other half of the picture we have a beggar, a man not only in dire destitution, but suffering bodily pains as well. He bore his lot patiently. He was quite content if he got the crumbs that fell from the rich man's table, which he probably did not always get. He must have been disappointed that this rich man never thought of giving him a helping hand but there is no mention of his ever criticizing or blaming him. He left these things to God.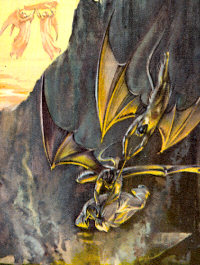 Both men die eventually. The beggar goes straight to heaven to a state of endless happiness. His bodily sufferings have ended forever, he will never be in want again. The rich man fares very differently. His enjoyments are over forever. He is now in torments and he is told that he can expect no relief. They will have no end. Abraham tells him why he is in his present state: he abused his time on earth. He sees the truth of this. He knows that he has no one to blame but himself which must add greatly to his torments. It is also a cause of additional grief to him that his bad example will lead his brothers (his fellowmen) to a like fate.
All the parables of our Lord are based on everyday happenings. While we hope and pray that the case of the rich man described here is not an everyday occurrence, we cannot doubt but that such cases have happened and will happen again. This rich man is not in eternal torments because he was rich and even very rich. He is in eternal torments because he let his wealth become his master and forgot God and his neighbor and his own real welfare—eternal life. There are men like him in our world today, men who completely ignore their real future. While they are convinced that their stay on this earth is of very short duration and that they will have to leave it very, very soon, they still act and live as if they had a permanent home here.
This is true not only of those who try (ineffectively most probably) to keep from their minds all thought of a future life, but even of some who openly profess to be Christians and who recite so often the words of the Creed: "I believe in the resurrection of the dead and the life of the world to come." Yet, they are so busy trying to get the wealth and the pleasures of this life, or to increase all they have of them already, that they haven't a moment to spare for the thing that really matters-their future unending life after death.
God forbid that any of us should be numbered amongst these foolish people, for there is no greater folly on earth than to miss the real and only purpose in life because of a few trivial, passing attractions. We are not forbidden to have some of this world's goods. We need some, and God it was who provided them for our use. But we must use them properly and we must not set them up as idols to be adored. On all sides of us there are Lazaruses placed at our gates by God to give us an opportunity to exercise fraternal charity. Be a true brother to them now and you will not have to envy them hereafter.
If on the other hand your lot is that of a Lazarus—and many there are whose life is one long, continual struggle against poverty, disease and hardship—try to carry your cross patiently. Envy of your neighbor and rebellion against God will only add to, and do not cure, your ills. The day of judgment, which for you will be the day of reward, if you are humble and patient, is around the comer. Eternal happiness is worth twenty lives of earthly ill-fortune.
—Excerpted from The Sunday Readings Cycle C, Fr. Kevin O' Sullivan, O.F.M.
Miraculous Rosary: FAMOUS ROSARY MIRACLES

For Meditation: to Jesus thru Mary
4th sorrowful mystery in the Domincan rosary Mary meets Jesus carrying the cross.
4th sorrow on the Servite Rosary Mary meets Jesus carrying the cross.
4th Station of the Cross: Jesus meets Mary
Why pray the Rosary today? Certainly, to grow in holiness and in one's prayer life. The following are a few others reasons why the rosary should be prayed often, even daily:
"Among all the devotions approved by the Church none has been so favored by so many miracles as the devotion of the Most Holy Rosary" (Pope Pius IX).
"Say the Rosary every day to obtain peace for the world" (Our Lady of Fátima).
"There is no surer means of calling down God's blessings upon the family . . . than the daily recitation of the Rosary" (Pope Pius XII).
"We do not hesitate to affirm again publicly that we put great confidence in the Holy Rosary for the healing of evils of our times" (Pope Pius XII).
"No one can live continually in sin and continue to say the Rosary: either they will give up sin or they will give up the Rosary" (Bishop Hugh Doyle).
"The Rosary is a magnificent and universal prayer for the needs of the Church, the nations and the entire world" (Pope John XXIII).
"The Rosary is the compendium of the entire Gospel" (Pope Paul VI quoting Pope Pius XII).
"Meditation on the mysteries of the Rosary . . . can be an excellent preparation for the celebration of those same mysteries in the liturgical actions [i.e. the Mass] and can also become a continuing echo thereof" (Pope Paul VI).
"My impression is that the Rosary is of the greatest value not only according to the words of Our Lady at Fátima, but according to the effects of the Rosary one sees throughout history. My impression is that Our Lady wanted to give ordinary people, who might not know how to pray, this simple method of getting closer to God" (Sister Lucia, one of the seers of Fátima).
"How beautiful is the family that recites the Rosary every evening" (Pope John Paul II).
Pope John Paul II has called the Rosary his "favorite prayer," after the Mass and the Liturgy of the Hours.
St. Louis de Montfort warns us against both the ignorant and scholars who regard the Rosary as something of little importance…"the Rosary is a priceless treasure inspired by God."
Pray for us, O' Holy Mother of God. That we may be made worthy of the promises of Christ.
+ + + +

The

Eight Beatitudes

form the core of the Christian life. As Fr. John A. Hardon, S.J., writes in his Modern Catholic Dictionary, they are the "

promises of happiness

made by Christ to those who faithfully accept his teaching and follow his divine example." That happiness is not in the future but

now

for those who conform their lives to Christ.
Blessed are the poor in spirit, for theirs is the kingdom of heaven.
Blessed are those who mourn, for they shall be comforted.
Blessed are the meek, for they shall inherit the earth.
Blessed are those who hunger and thirst for righteousness, for they shall be satisfied.
Blessed are the merciful, for they shall obtain mercy.
Blessed are the pure in heart, for they shall see God.
Blessed are the peacemakers, for they shall be called sons of God.

Blessed are those who are persecuted for righteousness' sake, for theirs is the kingdom of heaven.

Blessed are you when men revile you and persecute you and utter all kinds of evil against you falsely on my account. Rejoice and be glad, for your reward is great in heaven."
The "Angelus"
Powerful Daily Prayer
This wonderful prayer evolved from a recitation of three Hail Mary's following an evening bell around the 12th century to its present form (with morning and midday recitations) in the 16th century.
V. The Angel of the Lord declared unto Mary.
R. And she conceived of the Holy Spirit.
Hail Mary, full of grace,
The Lord is with Thee;
Blessed art thou among women,
And blessed is the fruit of thy womb, Jesus.
Holy Mary, Mother of God,
Pray for us sinners,
Now and at the hour of our death. Amen
V. Behold the handmaid of the Lord.
R. Be it done unto me according to thy word.
Hail Mary, etc.
V. And the Word was made Flesh.
R. And dwelt among us.
Hail Mary, etc.
V. Pray for us, O holy Mother of God.
R. That we may be made worthy of the promises of Christ.
LET US PRAY
Pour forth, we beseech Thee, O Lord, Thy grace into our hearts, that we to whom the Incarnation of Christ Thy Son was made known by the message of an angel, may by His Passion and Cross be brought to the glory of His Resurrection. Through the same Christ Our Lord. Amen.
May the Divine assistance remain always with us and may the souls of the faithful departed, through the mercy of God, rest in peace. Amen.
When prayed in a group setting a leader recites the verses and everyone recites both the responses and the Hail Mary's in between each verse, as shown above.
Although the Angelus has been traditionally said three times daily, at 6 am, noon and 6 pm, you can pray it at anytime especially at NOON. It is still accompanied by the ringing of a bell (the Angelus bell) in some places such as Vatican City and parts of Germany and Ireland.

Perpetual (24/7) Eucharistic Adoration prayer mission
THE DIVINE PRAISES
Blessed be God.
Blessed be His Holy Name.
Blessed be Jesus Christ, true God and true man.
Blessed be the name of Jesus.
Blessed be His Most Sacred Heart.
Blessed be Jesus in the Most Holy Sacrament of the Altar.
Blessed be the Holy Spirit, the paraclete.
Blessed be the great Mother of God, Mary most holy.
Blessed be her holy and Immaculate Conception.
Blessed be her glorious Assumption.
Blessed be the name of Mary, Virgin and Mother.
Blessed be Saint Joseph, her most chaste spouse.
Blessed be God in His angels and in His Saints.
May the heart of Jesus, in the Most Blessed Sacrament, be praised, adored, and loved with grateful affection, at every moment, in all the tabernacles of the world, even to the end of time. Amen




PRAYER TO THE INFANT OF PRAGUE

O Infant of Prague, who said, "The more you honor me, the more I will bless you," give us the strength to bear the burden of daily life in this sinful world. Give us a firm purpose of amendment and a resolve to lead a better life. Help us endure our afflictions and sorrows with patience and courage. Finally, O beloved Infant King if it be your will grant my petition (mention petition here). But whatever you choose, give me the strength to submit to your will in all things. Amen.

LORD, JESUS CHRIST, I AM DEEPLY SORRY FOR MY SINS. HAVE MERCY ON ME. In Your name, JESUS, I ask You for the grace to forgive myself. I ask your forgiveness for hurting others. I ask for the grace to forgive all those who have hurt me in this life, and especially the one person who has hurt me the most. I renounce forever Satan, ALL the evil spirits and all their works. I give you my entire self Lord JESUS, now and forever, you are my Lord, God, SAVIOR AND REDEEMER. Please heal me, change me, strengthen me in body, mind and spirit for my greater service in Your Kingdom. Allow me to lead other souls to You through my good example. JESUS I trust in you! Come Lord JESUS, cover me with Your most precious blood, and fill me with Your Holy Spirit, I praise You, I thank You, I glorify Your name, JESUS. I love You JESUS WITH MY WHOLE HEART, SOUL, MIND, BODY AND MY WHOLE BEING. O' Blessed Virgin Mary, Mother of God, with Holy Raphael the Archangel and all the holy Angels and Saints, pray for us! Amen
Holy Raphael says in Chapter 12 in the
BOOK OF TOBIT 12:7-10
7 A king's secret it is prudent to keep, but the works of God are to be declared and made known. Praise them with due honor. Do good, and evil will not find its way to you.
8 Prayer and fasting are good, but better than either is almsgiving accompanied by righteousness. A little with righteousness is better than abundance with wickedness. It is better to give alms than to store up gold;
We must work in the Vineyard and

not return to GOD with empty hands!
To feed the hungry;
To give drink to the thirsty;
To clothe the naked;
To visit the imprisoned;
To visit the sick;
To shelter the homeless;
To bury the dead.
To instruct the ignorant;
To counsel the doubtful;
To admonish the sinner;
To bear wrongs patiently;
To forgive offences willingly;
To comfort the sorrowful;
To pray for the living and the dead.
44 Messianic Prophecies of Jesus
Prophecies of Jesus
Old Testament
Scripture
New Testament
Fulfillment
1
Messiah would be born of a woman.
Genesis 3:15
Matthew 1:20
Galatians 4:4
2
Messiah would be born in Bethlehem.
Micah 5:2
Matthew 2:1
Luke 2:4-6
3
Messiah would be born of a virgin.
Isaiah 7:14
Matthew 1:22-23
Luke 1:26-31
4
Messiah would come from the line ofAbraham.
Genesis 12:3
Genesis 22:18
Matthew 1:1
Romans 9:5
5
Messiah would be a descendant of Isaac.
Genesis 17:19
Genesis 21:12
Luke 3:34
6
Messiah would be a descendant of Jacob.
Numbers 24:17
Matthew 1:2
7
Messiah would come from the tribe of Judah.
Genesis 49:10
Luke 3:33
Hebrews 7:14
8
Messiah would be heir to King David's throne.
2 Samuel 7:12-13
Isaiah 9:7
Luke 1:32-33
Romans 1:3
9
Messiah's throne will be anointed and eternal.
Psalm 45:6-7
Daniel 2:44
Luke 1:33
Hebrews 1:8-12
10
Messiah would be called Immanuel.
Isaiah 7:14
Matthew 1:23
11
Messiah would spend a season in Egypt.
Hosea 11:1
Matthew 2:14-15
12
A massacre of children would happen at Messiah's birthplace.
Jeremiah 31:15
Matthew 2:16-18
13
A messenger would prepare the way for Messiah
Isaiah 40:3-5
Luke 3:3-6
14
Messiah would be rejected by his own people.
Psalm 69:8
Isaiah 53:3
John 1:11
John 7:5
15
Messiah would be a prophet.
Deuteronomy 18:15
Acts 3:20-22
16
Messiah would be preceded by Elijah.
Malachi 4:5-6
Matthew 11:13-14
17
Messiah would be declared the Son of God.
Psalm 2:7
Matthew 3:16-17
18
Messiah would be called a Nazarene.
Isaiah 11:1
Matthew 2:23
19
Messiah would bring light to Galilee.
Isaiah 9:1-2
Matthew 4:13-16
20
Messiah would speak in parables.
Psalm 78:2-4
Isaiah 6:9-10
Matthew 13:10-15, 34-35
21
Messiah would be sent to heal the brokenhearted.
Isaiah 61:1-2
Luke 4:18-19
22
Messiah would be a priest after the order of Melchizedek.
Psalm 110:4
Hebrews 5:5-6
23
Messiah would be called King.
Psalm 2:6
Zechariah 9:9
Matthew 27:37
Mark 11:7-11
24
Messiah would be praised by little children.
Psalm 8:2
Matthew 21:16
25
Messiah would be betrayed.
Psalm 41:9
Zechariah 11:12-13
Luke 22:47-48
Matthew 26:14-16
26
Messiah's price money would be used to buy a potter's field.
Zechariah 11:12-13
Matthew 27:9-10
27
Messiah would be falsely accused.
Psalm 35:11
Mark 14:57-58
28
Messiah would be silent before his accusers.
Isaiah 53:7
Mark 15:4-5
29
Messiah would be spat upon and struck.
Isaiah 50:6
Matthew 26:67
30
Messiah would be hated without cause.
Psalm 35:19
Psalm 69:4
John 15:24-25
31
Messiah would be crucified with criminals.
Isaiah 53:12
Matthew 27:38
Mark 15:27-28
32
Messiah would be given vinegar to drink.
Psalm 69:21
Matthew 27:34
John 19:28-30
33
Messiah's hands and feet would be pierced.
Psalm 22:16
Zechariah 12:10
John 20:25-27
34
Messiah would be mocked and ridiculed.
Psalm 22:7-8
Luke 23:35
35
Soldiers would gamble for Messiah's garments.
Psalm 22:18
Luke 23:34
Matthew 27:35-36
36
Messiah's bones would not be broken.
Exodus 12:46
Psalm 34:20
John 19:33-36
37
Messiah would be forsaken by God.
Psalm 22:1
Matthew 27:46
38
Messiah would pray for his enemies.
Psalm 109:4
Luke 23:34
39
Soldiers would pierce Messiah's side.
Zechariah 12:10
John 19:34
40
Messiah would be buried with the rich.
Isaiah 53:9
Matthew 27:57-60
41
Messiah would resurrect from the dead.
Psalm 16:10
Psalm 49:15
Matthew 28:2-7
Acts 2:22-32
42
Messiah would ascend to heaven.
Psalm 24:7-10
Mark 16:19
Luke 24:51
43
Messiah would be seated at God's right hand.
Psalm 68:18
Psalm 110:1
Mark 16:19
Matthew 22:44
44
Messiah would be a sacrifice for sin.
Isaiah 53:5-12
Romans 5:6-8
MIRACLES OF JESUS CHRIST

Healing Miracles

| | | | | |
| --- | --- | --- | --- | --- |
| Recipient | Matthew | Mark | Luke | John |
| Official's son | | | | 4:46-54 |
| Possessed man | | 1:21-27 | 4:33-37 | |
| Peter's in-law | 8:14-15 | 1:29-31 | 4:38-39 | |
| Many at sunset | 8:16-17 | 1:32-39 | 4:40-41 | |
| Leper | 8:1-4 | 1:40-45 | 5:12-15 | |
| Paralytic | 9:1-8 | 2:1-12 | 5:18-26 | |
| Man at Bethesda | | | | 5:1-17 |
| Withered hand | 12:9-13 | 3:1-6 | 6:6-11 | |
| Crowd in Galilee | 4:23-25 | | | |
| Centurion's son | 8:5-13 | | 7:1-10 | |
| Widow's son | | | 7:11-17 | |
| 2 demoniacs | 8:28-34 | 5:1-20 | 8:26-39 | |
| Jairus daughter-1 | 9:18-19 | 5:22-24 | 8:41-42 | |
| Unclean woman | 9:20-22 | 5:24-34 | 8:49-56 | |
| Jairus daughter-2 | 9:23-26 | 5:35-43 | 8:49-56 | |
| 2 blind men | 9:27-31 | | | |
| Dumb man | 9:32-34 | | | |
| Touching clothes | 14:34-36 | 6:53-56 | | |
| Crowd in Galilee | 9:35 | | | |
| Few in Nazareth | | 6:1-6 | | |
| Gentile's daughter | 15:21-28 | 7:24-30 | | |
| Deaf man | | 7:31-37 | | |
| Multitude | 15:29-31 | | | |
| Epileptic boy | 17:14-21 | 9:14-29 | 9:37-42 | |
| Blind man | | | | 9:1-41 |
| Blind/dumb man | 12:22-24 | | 11:14-15 | |
| Man of Bethsaida | | 8:22-26 | | |
| Stooped woman | | | 13:10-17 | |
| Manwith Dropsy | | | 14:1-16 | |
| Lazarus raised | | | | 11:1-45 |
| Ten Lepers | | | 17:11-19 | |
| Crowds in Judea | 19:1-2 | | | |
| Bartimaeus | 20:29-34 | 10:46-52 | 18:35-43 | |
| Many in Jerusalem | 21:14 | | | |
| Ear of Malchus | | | 22:47-53 | 18:10-11 |
| Resurrection | 28:1-10 | 16:1-20 | 24:1-53 | 20:1-31 |

Other Miracles

| | | | | |
| --- | --- | --- | --- | --- |
| Event | Matthew | Mark | Luke | John |
| Water to wine | | | | 2:1-11 |
| 1st catch of fish | | | 5:1-11 | |
| Calms a sea | 8:23-27 | 4:35-41 | 8:22-25 | |
| Feeds 5000 | 14:13-21 | 6:32-44 | 9:10-17 | 6:1-13 |
| Walks on water | 14:22-33 | 6:45-51 | | 6:15-21 |
| Feeds 4000 | 15:32-39 | 8:1-10 | | |
| Money in fish | 17:24-27 | | | |
| Tree withered | 21:18-22 | 11:12-24 | | |
| 2nd catch of fish | | | | 21:1-14 |