The Twelve drove out many demons,
and they anointed with oil many who were sick and cured them.
Mark 6:13
The month of April is dedicated to The Holy Spirit. The first eleven days of the month fall during the season of Lent which is represented by the liturgical color purple — a symbol of penance, mortification and the sorrow of a contrite heart. The remainder of April falls during the Easter season which is represented by the liturgical color white — the color of light, a symbol of joy, purity and innocence (absolute or restored).
The Holy Father's Intentions for the Month of April 2020
Freedom from Addiction
We pray that those suffering from addiction may be helped and accompanied. (See also Pope's Worldwide Prayer Network)
Angel of God, my guardian dear, to whom God's love commits me here, ever this day be at my side, to light and guard, to rule and guide. Amen.
St. Raphael the Archangel whose name means "Medicine of God" or "God heals" in Hebrew; is one of the seven Archangels that stand before the throne of GOD.
"I am Raphael, one of the seven who stand before the Lord." [Tob. 12: 15] When we pray for his help he intercedes directly to God the Father. He is one of the three angels mentioned by name in holy scripture. St. Raphael appears in the deutero-canonical Book of Tobit, a beautiful narrative in the Old Testament.
He heals Tobit of blindness, he protects and guides Tobias on his travels and he delivers Sarah from an evil demon. Tobit, Tobias and Sarah were beset by trials and difficulties to purify them, but they remained steadfast in their faith during the period of testing, and eventually enjoyed God's blessings and mercy. All prayed for deliverance and God sent St. Raphael. The longest recorded speech of an angel is Chapter 12 of the Book of Tobit.
He is the healing and deliverance Archangel, and the patron of travelers, the blind, bodily ills, nurses, physicians,medical workers, happy meetings and marriages.
The feast day of Raphael was included for the first time in the General Roman Calendar in 1921, for celebration on October 24. With the 1969 revision of the General Roman Calendar, the feast was transferred to September 29 for celebration together with archangels Saints Michael and Gabriel.
"May the Angel Raphael, physician of our salvation, help us from the heights of Heaven, heal all diseases and guide our faltering steps towards the true life."

(Hymn at Lauds).
ANGEL OF FATIMA PARDON PRAYER
MY GOD, I believe, I adore, I hope and I love You! I ask pardon of You for
those who do not believe, do not adore,
do not hope and do not love You. Amen.
Day 5 – Coronavirus Novena
Peace be with you!
Today let's pray for those who are suffering from the coronavirus. Let's pray for their healing and that Jesus will be at their side throughout this ordeal.
Let's pray for there to be enough medicine, for there to be enough hospital equipment and physicians and other staff to take care of those who are suffering.
Here are the prayers for today:
In the name of the Father and of the Son and of the Holy Spirit.
Amen.
Father in Heaven, have mercy on us and on the whole world. We come to you today with our fears and concerns — You know what's in our hearts. We love You, trust You, we need You. We ask You to be with us. Stay with us. Help us through these times of uncertainty and sorrow.
We know you are the Divine Physician, the healer of all. And so we ask that you bring your loving and healing presence to all those who are sick and suffering right now. Please comfort them.
Please be with the grieving families of those who have passed away.
Please have mercy on those who have died, may they be with You in heaven.
Please stand at the side of all medical professionals who are putting themselves at risk while they work to bring healing to others.
Lord, we are scared and we are sorrowful. Please heal us. Send us your peace and overwhelming presence.
(Mention your intentions here)
St. Rocco, you are venerated for your prayers for those suffering from infectious diseases, pray for us!
Jesus, we thirst for You. You chose to enter this world as a vulnerable baby. Be with the most vulnerable now. Help us to continue to return to You with our whole hearts throughout this ordeal.
Amen.
In the name of the Father and of the Son and of the Holy Spirit.
Amen.
for Help and Protection against the Corona Virus

Holy St. Raphael allow this healing balm, healing oil that was blessed in Heaven to flow through my entire body and touch every organ and heal me of any known and unknown ailments, then + bless yourself with the oil +, St. Raphael protect us from any diseases, plagues, chastisements, flus coming upon the earth. Amen.
(You can also place a cross of the oil, above your doorposts and windows. It is used as a healing balm and/or a protection against evil and pestilence.)
FIRST FRIDAY APRIL 3
The Nine First Fridays
*Because of the suspension of Mass in many states, please try to watch Mass on Television, EWTN, Daily Catholic Mass – EWTN has many options.
St. Margaret Mary Alacoque, Apostle of the Sacred Heart of Jesus, received the unique favor of being visited by Our Lord Himself, who asked her to spread devotion to His Most Sacred Heart. In 1671 she entered the Visitation convent at Paray-le-Monial and was professed the next year. From the time she was twenty, she experienced visions of Christ, and on December 27, 1673, she began a series of revelations that were to continue over the next year and a half. In them Christinformed her that she was His chosen instrument to spread devotion to His Sacred Heart, instructed her in a devotion that was to become known as the Nine Fridays and the Holy Hour, and asked that the feast of the Sacred Heart be established. This she most humbly did, once she had received the permission and approbation of her superiors, especially her spiritual director and confessor, St. Claude La Columbiere.
For all Catholic men and women, families and young people troubled by the many afflictions of modern life here is the greatest source of spiritual and temporal help, graces and blessings for those who truly love the Sacred Heart of Our Lord, Jesus Christ, and practice His requested Devotion with the essential prayers and acts including the "First Friday's". We should then adore Jesus Christ in this august Sacrament, make a fervent act of love to Jesus in the tabernacle, thank Him for having instituted this Mystery of love, express our sorrow at seeing Him so abandoned, and resolve to visit Him as soon as possible and love Him unceasingly.
The Nine "First Fridays" must be made in honor of His Sacred Heart on nine consecutive months, and communion must be received.
The Great Promise of Jesus to Saint Margaret M. Alacoque
To all those who, during nine months on end, will receive Holy Communion on the first Fridays of every month.
I promise the Grace of final perseverance. They will not die in My disgrace, but will receive the Sacraments (if necessary), and My Heart will be sure shelter for them in that extreme moment.
The nine Friday promises of our Lord to St. Margaret Mary
I will give them all of the graces necessary for their state of life.
I will establish peace in their houses.
I will comfort them in all their afflictions.
I will be their strength during life and above all during death.
I will bestow a large blessing upon all their undertakings.
Sinners shall find in My Heart the source and the infinite ocean of mercy.
Tepid souls shall grow fervent.
Fervent souls shall quickly mount to high perfection.
I will bless every place where a picture of my heart shall be set up and honored.
I will give to priests the gift of touching the most hardened hearts.
Those who shall promote this devotion shall have their names written in My Heart, never to be blotted out.
I promise you in the excessive mercy of My Heart that My all-powerful love will grant all to those who communicate on the First Friday in nine consecutive months the grace of final penitence; they shall not die in My disgrace nor without receiving their sacraments; My Divine Heart shall be their safe refuge in this last moment.
Lent: April 3
Friday of the Fifth Week of Lent
"I am the light of the world. Whoever follows me will not walk in darkness, but will have the light of life (Jn 8:12)." Like the forty days' fast of the Ninevites, our Lent continues in complete confidence in divine mercy; but our hope is founded not so much on our poor efforts at penance but on the passion of our Savior. No one is excluded from the redemption effected by the Blood of Christ; His grace is promised to all who believe in Him.
Historically today is the feast of St. Richard of Chichester also known as Richard de Wych, a saint canonized 1262 who was Bishop of Chichester.
---
Meditation
What do we do for the salvation of souls? It is true that we pray for one another, offer a few words of comfort, and do each other slight favors; but we do little more. Christ was more generous. He endured the crowning of thorns and dragged the heavy cross to Calvary. We pamper our bodies as if they were our last end. We prefer to have our heads crowned with laurels and roses. We are impatient and consider ourselves unfortunate whenever we are called on to carry a mere splinter of the cross of Christ. Are we one in spirit with Him?
Now, during Passiontide, we must begin to love and treasure pain and suffering. In the cross, in suffering, in our crucifixion with Christ, we shall find salvation. For Him and with Him we should bear all the slight injustices committed against us. For Him we should suffer freely and willingly the unpleasant and disagreeable things that occur to us. But our faith is weak. We flee from the cross instead of holding it dear, instead of loving it and welcoming it as our Savior did.
What St. Paul says of many Christians of his day is equally true of many in our time: "For many walk, of whom I have told you often (and now tell you weeping) that they are enemies of the cross of Christ. Whose end is destruction; whose God is their belly; whose glory is in their shame; who mind earthly things" (Phil. 3:18 f.).
Excerpted from The Light of the World by Benedict Baur, O.S.B.
---
St. Richard of Chichester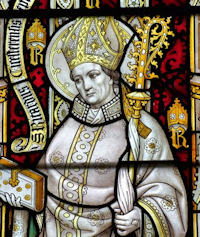 St Richard was born at the manor of Wiche, famous for its salt wells, four miles from Worcester, being second son to Richard and Alice de Wiche. In order to keep faithfully his baptismal vows, he from his infancy always manifested the utmost dislike to frivalous diversions, and ever held in the highest contempt all worldly pomp: instead of which his attention was wholly employed in establishing for himself a solid foundation of virtue and learning. Every opportunity of serving others he regarded as his happiness and gain.
The unfortunate situation of his eldest brother's affairs gave him an occasion of exercising his benevolent disposition. Richard condescended to become his brother's servant, undertook the management of his farms, and by his industry and generosity effectually retrieved his brother's previously distressed circumstances.
Having completed this good work, he resumed at Paris those studies he had begun at Oxford, leading with two select companions a life of piety and mortification, generally contenting himself with coarse bread and simple water for his diet; except that on Sundays and on particular festivals he would, in condescendence to some visitors, allow himself a little meat or fish.
Upon his return to England, he proceeded master of arts at Oxford, from whence he went to Bologna, in Italy, where he applied himself to the study of canon law, and was appointed public professor of that science. After having taught there a short time, he returned to Oxford, and, on account of his merit, was soon promoted to the dignity of chancellor in that university.
St. Edmund, archbishop of Canterbury, having the happiness of gaining him for his diocese, appointed him his chancellor, and intrusted him with the chief direction of his archbishopric; and Richard was the faithful imitator of his patron's piety and devotions. The principal use he made of his revenues was to employ them to charitable purposes, nor would he on any terms be prevailed on to accept the least present in the execution of his office as ecclesiastical judge.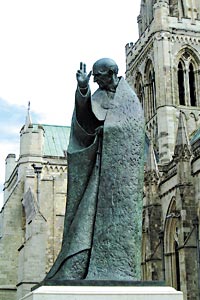 He accompanied his holy prelate in his banishment into France, and after his blessed death at Pontigni, retired into a convent of Dominican friars in Orleans. Having in that solitude employed his time in improving himself in theological studies, and received the order of priesthood, he returned to England to serve a private curacy, in the diocess of Canterbury. Boniface, who had succeeded St. Edmund in that metropolitan see, compelled him to resume his office of chancellor with the care of his whole diocese.
Ralph Nevil, bishop of Chichester, dying in 1244, King Henry III recommended to that see an unworthy court favourite, called Robert Passelew: the archbishop and other prelates declared the person not qualified, and the presentation void, and preferred Richard de Wiche to that dignity. He was consecrated in 1245. But the king seized his temporalities, and the saint suffered many hardships and persecutions from him and his officers, during two years, till his majesty granted him a repreieve upon which he recovered his revenues, but much impaired.
Afterwards having pleaded his cause at Rome before Pope Innocent IV against the king's deputies, and obtained a sentence confirming his election, he had permitted no persecution, fatigue, or difficulty to excuse him to himself for the omission of any part of his duty to his flock: so now, the chief obstacles being removed, he redoubled his fervour and attention. He in person visited the sick, buried the dead, and sought out and relieved the poor. When his steward complained that his alms exceeded his income: "then," said he, "sell my plate and my horse."
Having suffered a great loss by fire, instead of being more sparing in his charities, he said, "Perhaps God sent us this loss to punish our covetousness;" and ordered upon the spot more abundant alms to be given than usual. Such was the ardour of his devotion, that he lived as it were in the perpetual contemplation of heavenly things. He preached the word of God to his flock with that unction and success, which only an eminent spirit of prayer could produce. The affronts which he received, he always repaid with favours, and enmity with singular marks of charity.
In maintaining discipline he was inflexible, especially in chastising crimes in the clergy: no intercession of the king, archbishop, and several other prelates could prevail with him to mitigate the punishment of a priest who had sinned against chastity. Yet penitent sinners he received with inexpressible tenderness and charity.
Whilst he was employed in preaching a holy war against the Saracens, being commissioned thereto by the pope, he fell sick of a fever, foretold his own death, and prepared himself for it by the most melting ejaculations of divine love and thanksgiving. He died in an hospital at Dover, called God's House, on the 3rd of April, in the year of our Lord 1253, of his episcopal dignity the ninth, of his age the fifty-sixth.
His body was conveyed to Chichester, and interred before the altar which he himself had consecrated in his cathedral to the memory of St. Edmund. It was removed to a more honourable place in 1276, on the 16th of June, on which day our ancestors commemorated his translation. The fame of miraculous cures of paralytic and other distempers, and of three persons raised to life at his tomb, moved the pope to appoint commissaries to inquire into the truth of these reports, before whom many of these miracles were authentically proved upon the spot; and the saint was solemnly canonized by Urban IV. in 1262.
Excerpted from The Lives of the Saints by Alban Butler (1866)
Things to Do:
---

Friday of the 5th Week of Lent, Station with Santo Stefano Rotondo al Celio (St Stephen's Rotunda at the Coelian):
The Station, at Rome, is in the church of St. Stephen on Monte Celio. This church of the great proto-martyr was chosen as the place where the faithful were to assemble on the Friday of Passion week.
Feast Days and Holy Days of Obligation for 2020
In addition to EVERY SUNDAY
The Holy Days of Obligation are the days

(outside of Sundays)

on which Catholics gather together to celebrate the mysteries of our faith as a community. This "obligation" is familial because we are responsible as a family of faith in mutually supporting one another. Gathering together in our parishes and communities on Sundays and Holy Days of Obligation helps us to "encourage one another and build one another up…"
(1 Thessalonians 5:11)
Holy Days for 2020*
Wednesday, January 1, 2020

– Solemnity of Mary, Mother of God


Thursday, May 21, 2020

– Ascension of the Lord – a holy day of obligation

Saturday, August 15, 2020

– Assumption of Mary – a holy day of obligation

Sunday, November 1, 2020

– All Saints –


Tuesday, December 8, 2020

– Immaculate Conception – a holy day of obligation

Friday, December 25, 2020

– Christmas – always a holy day

Friday, January 1, 2021

– Solemnity of Mary, Mother of God
*Whenever January 1, the Solemnity of Mary, Mother of God, or August 15, the Solemnity of the Assumption, or November 1, the Solemnity of All Saints, falls on a Saturday or on a Monday, the precept to attend Mass is abrogated.
Other important liturgical days:
Ash Wednesday: February 26, 2020
Palm Sunday: April 5, 2020
Holy Thursday: April 9, 2020
Good Friday: April 10, 2020
Easter Sunday: April 12, 2020
Pentecost Sunday: May 31 , 2020
The Most Holy Body and Blood of Christ: Sunday,June 14, 2020
The Most Sacred Heart of Jesus: Friday, June 19, 2020
First Sunday of Advent: November 29, 2020
The

Eight Beatitudes

form the core of the Christian life. As Fr. John A. Hardon, S.J., writes in his Modern Catholic Dictionary, they are the "

promises of happiness

made by Christ to those who faithfully accept his teaching and follow his divine example." That happiness is not in the future but

now

for those who conform their lives to Christ.
Blessed are the poor in spirit, for theirs is the kingdom of heaven.
Blessed are those who mourn, for they shall be comforted.
Blessed are the meek, for they shall inherit the earth.
Blessed are those who hunger and thirst for righteousness, for they shall be satisfied.
Blessed are the merciful, for they shall obtain mercy.
Blessed are the pure in heart, for they shall see God.
Blessed are the peacemakers, for they shall be called sons of God.

Blessed are those who are persecuted for righteousness' sake, for theirs is the kingdom of heaven.

Blessed are you when men revile you and persecute you and utter all kinds of evil against you falsely on my account. Rejoice and be glad, for your reward is great in heaven."
The "Angelus"
Powerful Daily Prayer
This wonderful prayer evolved from a recitation of three Hail Mary's following an evening bell around the 12th century to its present form (with morning and midday recitations) in the 16th century.
V. The Angel of the Lord declared unto Mary.
R. And she conceived of the Holy Spirit.
Hail Mary, full of grace,
The Lord is with Thee;
Blessed art thou among women,
And blessed is the fruit of thy womb, Jesus.
Holy Mary, Mother of God,
Pray for us sinners,
Now and at the hour of our death. Amen
V. Behold the handmaid of the Lord.
R. Be it done unto me according to thy word.
Hail Mary, etc.
V. And the Word was made Flesh.
R. And dwelt among us.
Hail Mary, etc.
V. Pray for us, O holy Mother of God.
R. That we may be made worthy of the promises of Christ.
LET US PRAY
Pour forth, we beseech Thee, O Lord, Thy grace into our hearts, that we to whom the Incarnation of Christ Thy Son was made known by the message of an angel, may by His Passion and Cross be brought to the glory of His Resurrection. Through the same Christ Our Lord. Amen.
May the Divine assistance remain always with us and may the souls of the faithful departed, through the mercy of God, rest in peace. Amen.
When prayed in a group setting a leader recites the verses and everyone recites both the responses and the Hail Mary's in between each verse, as shown above.
Although the Angelus has been traditionally said three times daily, at 6 am, noon and 6 pm, you can pray it at anytime especially at NOON. It is still accompanied by the ringing of a bell (the Angelus bell) in some places such as Vatican City and parts of Germany and Ireland.

The Divine Praises
Blessed be God.
Blessed be His Holy Name.
Blessed be Jesus Christ, true God and true man.
Blessed be the name of Jesus.
Blessed be His Most Sacred Heart.
Blessed be Jesus in the Most Holy Sacrament of the Altar.
Blessed be the Holy Spirit, the paraclete.
Blessed be the great Mother of God, Mary most holy.
Blessed be her holy and Immaculate Conception.
Blessed be her glorious Assumption.
Blessed be the name of Mary, Virgin and Mother.
Blessed be Saint Joseph, her most chaste spouse.
Blessed be God in His angels and in His Saints.
May the heart of Jesus, in the Most Blessed Sacrament, be praised, adored, and loved with grateful affection, at every moment, in all the tabernacles of the world, even to the end of time. Amen




PRAYER TO THE INFANT OF PRAGUE

O Infant of Prague, who said, "The more you honor me, the more I will bless you," give us the strength to bear the burden of daily life in this sinful world. Give us a firm purpose of amendment and a resolve to lead a better life. Help us endure our afflictions and sorrows with patience and courage. Finally, O beloved Infant King if it be your will grant my petition (mention petition here). But whatever you choose, give me the strength to submit to your will in all things. Amen.

LORD, JESUS CHRIST, I AM DEEPLY SORRY FOR MY SINS. HAVE MERCY ON ME. In Your name, JESUS, I ask You for the grace to forgive myself. I ask your forgiveness for hurting others. I ask for the grace to forgive all those who have hurt me in this life, and especially the one person who has hurt me the most. I renounce forever Satan, ALL the evil spirits and all their works. I give you my entire self Lord JESUS, now and forever, you are my Lord, God, SAVIOR AND REDEEMER. Please heal me, change me, strengthen me in body, mind and spirit for my greater service in Your Kingdom. Allow me to lead other souls to You through my good example. JESUS I trust in you! Come Lord JESUS, cover me with Your most precious blood, and fill me with Your Holy Spirit, I praise You, I thank You, I glorify Your name, JESUS. I love You JESUS WITH MY WHOLE HEART, SOUL, MIND, BODY AND MY WHOLE BEING. O' Blessed Virgin Mary, Mother of God, with Holy Raphael the Archangel and all the holy Angels and Saints, pray for us! Amen
Holy Raphael says in Chapter 12 in the
BOOK OF TOBIT 12:7-10
7 A king's secret it is prudent to keep, but the works of God are to be declared and made known. Praise them with due honor. Do good, and evil will not find its way to you.
8 Prayer and fasting are good, but better than either is almsgiving accompanied by righteousness. A little with righteousness is better than abundance with wickedness. It is better to give alms than to store up gold;
We must work in the Vineyard and

not return to GOD with empty hands!
To feed the hungry;
To give drink to the thirsty;
To clothe the naked;
To visit the imprisoned;
To visit the sick;
To shelter the homeless;
To bury the dead.
To instruct the ignorant;
To counsel the doubtful;
To admonish the sinner;
To bear wrongs patiently;
To forgive offences willingly;
To comfort the sorrowful;
To pray for the living and the dead.
44 Messianic Prophecies of Jesus
Prophecies of Jesus
Old Testament
Scripture
New Testament
Fulfillment
1
Messiah would be born of a woman.
Genesis 3:15
Matthew 1:20
Galatians 4:4
2
Messiah would be born in Bethlehem.
Micah 5:2
Matthew 2:1
Luke 2:4-6
3
Messiah would be born of a virgin.
Isaiah 7:14
Matthew 1:22-23
Luke 1:26-31
4
Messiah would come from the line ofAbraham.
Genesis 12:3
Genesis 22:18
Matthew 1:1
Romans 9:5
5
Messiah would be a descendant of Isaac.
Genesis 17:19
Genesis 21:12
Luke 3:34
6
Messiah would be a descendant of Jacob.
Numbers 24:17
Matthew 1:2
7
Messiah would come from the tribe of Judah.
Genesis 49:10
Luke 3:33
Hebrews 7:14
8
Messiah would be heir to King David's throne.
2 Samuel 7:12-13
Isaiah 9:7
Luke 1:32-33
Romans 1:3
9
Messiah's throne will be anointed and eternal.
Psalm 45:6-7
Daniel 2:44
Luke 1:33
Hebrews 1:8-12
10
Messiah would be called Immanuel.
Isaiah 7:14
Matthew 1:23
11
Messiah would spend a season in Egypt.
Hosea 11:1
Matthew 2:14-15
12
A massacre of children would happen at Messiah's birthplace.
Jeremiah 31:15
Matthew 2:16-18
13
A messenger would prepare the way for Messiah
Isaiah 40:3-5
Luke 3:3-6
14
Messiah would be rejected by his own people.
Psalm 69:8
Isaiah 53:3
John 1:11
John 7:5
15
Messiah would be a prophet.
Deuteronomy 18:15
Acts 3:20-22
16
Messiah would be preceded by Elijah.
Malachi 4:5-6
Matthew 11:13-14
17
Messiah would be declared the Son of God.
Psalm 2:7
Matthew 3:16-17
18
Messiah would be called a Nazarene.
Isaiah 11:1
Matthew 2:23
19
Messiah would bring light to Galilee.
Isaiah 9:1-2
Matthew 4:13-16
20
Messiah would speak in parables.
Psalm 78:2-4
Isaiah 6:9-10
Matthew 13:10-15, 34-35
21
Messiah would be sent to heal the brokenhearted.
Isaiah 61:1-2
Luke 4:18-19
22
Messiah would be a priest after the order of Melchizedek.
Psalm 110:4
Hebrews 5:5-6
23
Messiah would be called King.
Psalm 2:6
Zechariah 9:9
Matthew 27:37
Mark 11:7-11
24
Messiah would be praised by little children.
Psalm 8:2
Matthew 21:16
25
Messiah would be betrayed.
Psalm 41:9
Zechariah 11:12-13
Luke 22:47-48
Matthew 26:14-16
26
Messiah's price money would be used to buy a potter's field.
Zechariah 11:12-13
Matthew 27:9-10
27
Messiah would be falsely accused.
Psalm 35:11
Mark 14:57-58
28
Messiah would be silent before his accusers.
Isaiah 53:7
Mark 15:4-5
29
Messiah would be spat upon and struck.
Isaiah 50:6
Matthew 26:67
30
Messiah would be hated without cause.
Psalm 35:19
Psalm 69:4
John 15:24-25
31
Messiah would be crucified with criminals.
Isaiah 53:12
Matthew 27:38
Mark 15:27-28
32
Messiah would be given vinegar to drink.
Psalm 69:21
Matthew 27:34
John 19:28-30
33
Messiah's hands and feet would be pierced.
Psalm 22:16
Zechariah 12:10
John 20:25-27
34
Messiah would be mocked and ridiculed.
Psalm 22:7-8
Luke 23:35
35
Soldiers would gamble for Messiah's garments.
Psalm 22:18
Luke 23:34
Matthew 27:35-36
36
Messiah's bones would not be broken.
Exodus 12:46
Psalm 34:20
John 19:33-36
37
Messiah would be forsaken by God.
Psalm 22:1
Matthew 27:46
38
Messiah would pray for his enemies.
Psalm 109:4
Luke 23:34
39
Soldiers would pierce Messiah's side.
Zechariah 12:10
John 19:34
40
Messiah would be buried with the rich.
Isaiah 53:9
Matthew 27:57-60
41
Messiah would resurrect from the dead.
Psalm 16:10
Psalm 49:15
Matthew 28:2-7
Acts 2:22-32
42
Messiah would ascend to heaven.
Psalm 24:7-10
Mark 16:19
Luke 24:51
43
Messiah would be seated at God's right hand.
Psalm 68:18
Psalm 110:1
Mark 16:19
Matthew 22:44
44
Messiah would be a sacrifice for sin.
Isaiah 53:5-12
Romans 5:6-8
MIRACLES OF JESUS CHRIST

Healing Miracles

| | | | | |
| --- | --- | --- | --- | --- |
| Recipient | Matthew | Mark | Luke | John |
| Official's son | | | | 4:46-54 |
| Possessed man | | 1:21-27 | 4:33-37 | |
| Peter's in-law | 8:14-15 | 1:29-31 | 4:38-39 | |
| Many at sunset | 8:16-17 | 1:32-39 | 4:40-41 | |
| Leper | 8:1-4 | 1:40-45 | 5:12-15 | |
| Paralytic | 9:1-8 | 2:1-12 | 5:18-26 | |
| Man at Bethesda | | | | 5:1-17 |
| Withered hand | 12:9-13 | 3:1-6 | 6:6-11 | |
| Crowd in Galilee | 4:23-25 | | | |
| Centurion's son | 8:5-13 | | 7:1-10 | |
| Widow's son | | | 7:11-17 | |
| 2 demoniacs | 8:28-34 | 5:1-20 | 8:26-39 | |
| Jairus daughter-1 | 9:18-19 | 5:22-24 | 8:41-42 | |
| Unclean woman | 9:20-22 | 5:24-34 | 8:49-56 | |
| Jairus daughter-2 | 9:23-26 | 5:35-43 | 8:49-56 | |
| 2 blind men | 9:27-31 | | | |
| Dumb man | 9:32-34 | | | |
| Touching clothes | 14:34-36 | 6:53-56 | | |
| Crowd in Galilee | 9:35 | | | |
| Few in Nazareth | | 6:1-6 | | |
| Gentile's daughter | 15:21-28 | 7:24-30 | | |
| Deaf man | | 7:31-37 | | |
| Multitude | 15:29-31 | | | |
| Epileptic boy | 17:14-21 | 9:14-29 | 9:37-42 | |
| Blind man | | | | 9:1-41 |
| Blind/dumb man | 12:22-24 | | 11:14-15 | |
| Man of Bethsaida | | 8:22-26 | | |
| Stooped woman | | | 13:10-17 | |
| Manwith Dropsy | | | 14:1-16 | |
| Lazarus raised | | | | 11:1-45 |
| Ten Lepers | | | 17:11-19 | |
| Crowds in Judea | 19:1-2 | | | |
| Bartimaeus | 20:29-34 | 10:46-52 | 18:35-43 | |
| Many in Jerusalem | 21:14 | | | |
| Ear of Malchus | | | 22:47-53 | 18:10-11 |
| Resurrection | 28:1-10 | 16:1-20 | 24:1-53 | 20:1-31 |

Other Miracles

| | | | | |
| --- | --- | --- | --- | --- |
| Event | Matthew | Mark | Luke | John |
| Water to wine | | | | 2:1-11 |
| 1st catch of fish | | | 5:1-11 | |
| Calms a sea | 8:23-27 | 4:35-41 | 8:22-25 | |
| Feeds 5000 | 14:13-21 | 6:32-44 | 9:10-17 | 6:1-13 |
| Walks on water | 14:22-33 | 6:45-51 | | 6:15-21 |
| Feeds 4000 | 15:32-39 | 8:1-10 | | |
| Money in fish | 17:24-27 | | | |
| Tree withered | 21:18-22 | 11:12-24 | | |
| 2nd catch of fish | | | | 21:1-14 |