The Twelve drove out many demons,
and they anointed with oil many who were sick and cured them.
Mark 6:13
The month of February is dedicated to the Holy Family. This year the first 25 days of February fall during the liturgical season known as Ordinary Time which is represented by the liturgical color green. Green, the symbol of hope, is the color of the sprouting seed and arouses in the faithful the hope of reaping the eternal harvest of heaven, especially the hope of a glorious resurrection. The remaining days of February are the beginning of Lent. The liturgical color changes to purple — a symbol of penance, mortification and the sorrow of a contrite heart.
The Holy Father's Intentions for the Month of February 2020
Listen to the Migrants' Cries: We pray that the cries of our migrant brothers and sisters, victims of criminal trafficking, may be heard and considered. (See also Apostleship of Prayer)
Angel of God, my guardian dear, to whom God's love commits me here, ever this day be at my side, to light and guard, to rule and guide. Amen.
St. Raphael the Archangel whose name means "Medicine of God" or "God heals" in Hebrew; is one of the seven Archangels that stand before the throne of GOD.
"I am Raphael, one of the seven who stand before the Lord." [Tob. 12: 15] When we pray for his help he intercedes directly to God the Father. He is one of the three angels mentioned by name in holy scripture. St. Raphael appears in the deutero-canonical Book of Tobit, a beautiful narrative in the Old Testament.
He heals Tobit of blindness, he protects and guides Tobias on his travels and he delivers Sarah from an evil demon. Tobit, Tobias and Sarah were beset by trials and difficulties to purify them, but they remained steadfast in their faith during the period of testing, and eventually enjoyed God's blessings and mercy. All prayed for deliverance and God sent St. Raphael. The longest recorded speech of an angel is Chapter 12 of the Book of Tobit.
He is the healing and deliverance Archangel, and the patron of travelers, the blind, bodily ills, nurses, physicians,medical workers, happy meetings and marriages.
The feast day of Raphael was included for the first time in the General Roman Calendar in 1921, for celebration on October 24. With the 1969 revision of the General Roman Calendar, the feast was transferred to September 29 for celebration together with archangels Saints Michael and Gabriel.
"May the Angel Raphael, physician of our salvation, help us from the heights of Heaven, heal all diseases and guide our faltering steps towards the true life."

(Hymn at Lauds).
ANGEL OF FATIMA PARDON PRAYER
MY GOD, I believe, I adore, I trust, and I love Thee! I ask pardon for those who do not believe, do not adore and do not trust Thee. Amen

Thursday After Ash Wednesday
According to the 1962 Missal of St. John XXIII the Extraordinary Form of the Roman Rite, today is the feast of St. Gabriel of Our Lady of Sorrows who was born in Assisi on March 1, 1838, the eleventh child of Sante Possenti and Agnes Frisciotti. His father Sante was a distinguished Italian lawyer. The boy was given the name of the city's illustrious patron, St. Francis, at baptism.
---
St. Gabriel of Our Lady of Sorrows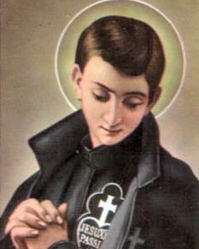 On Ascension Day, 1920, Pope Benedict XV bestowed the honors of sainthood on a youth who is rightly called the Aloysius of the 19th century. He was Francis Possenti, known in religion as Gabriel of the Sorrowful Mother.
Born in Assisi, March 1, 1838, he was given the name of the city's illustrious patron, St. Francis, at baptism. As a student in neighboring Spoleto, he led a good though rather worldly kind of life until God drew him closer to Himself through an illness. The decisive step was taken while seeing the highly honored miraculous picture of our Lady in Spoleto borne about in solemn procession. As his eyes followed our Blessed Mother, Francis felt the fire of divine love rising in his heart and almost at once made the resolve to join the Passionists, a religious congregation dedicated to the veneration of and meditation on the passion of Jesus Christ (1856).
After overcoming many difficulties, he carried out his resolution and received the religious name, Gabriel of the Mother of Sorrows. Even as a novice, he was regarded as a model of perfect holiness both within and beyond the cloister.
Saint Gabriel did not stand out from his community in any extraordinary way — his heroism lay in his obedient attitude. He conformed himself to his community in complete humility. Little is known of his life – only that he was blessed with an excellent memory and other gifts that made him an outstanding student. He also had a great devotion to the Passion of Christ and the Sorrows of Mary. Pius X and Leo XIII especially desired that he be the patron saint of young people and novices in religious orders, as their model in the interior life. He died in the year 1862.
Saint Gabriel Possenti wrote: "Love Mary!… She is loveable, faithful, constant. She will never let herself be outdone in love, but will ever remain supreme. If you are in danger, she will hasten to free you. If you are troubled, she will console you. If you are sick, she will bring you relief. If you are in need, she will help you. She does not look to see what kind of person you have been. She simply comes to a heart that wants to love her. She comes quickly and opens her merciful heart to you, embraces you and consoles and serves you. She will even be at hand to accompany you on the trip to eternity."
Patron: Abruzzi region of Italy; Catholic Action; clerics; students; young people in general.
Things to Do:
---
St. Leander of Seville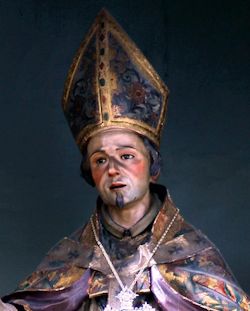 St. Leander was born of an illustrious family at Carthagena in Spain. He was the eldest of five brothers, several of whom are numbered among the Saints. He entered into a monastery very young, where he lived many years and attained to an eminent degree of virtue and sacred learning.
These qualities occasioned his being promoted to the see of Seville; but his change of condition made little or no alteration in his method of life, though it brought on him a great increase of care and solicitude.
Spain at that time was in possession of the Visigoths. These Goths, being infected with Arianism, established this heresy wherever they came; so that when St. Leander was made bishop it had reigned in Spain a hundred years. This was his great affliction; however, by his prayers to God, and by his most zealous and unwearied endeavors, he became the happy instrument of the conversion of that nation to the Catholic faith. Having converted, among others, Hermenegild, the king's eldest son and heir apparent, Leander was banished by King Leovigild. This pious prince was put to death by his unnatural father, the year following, for refusing to receive Communion from the hands of an Arian bishop. But, touched with remorse not long after, the king recalled our Saint; and falling sick and finding himself past hopes of recovery, he sent for St. Leander, and recommended to him his son Recared. This son, by listening to St. Leander, soon became a Catholic, and finally converted the whole nation of the Visigoths. He was no less successful with respect to the Suevi, a people of Spain, whom his father Leovigild had perverted.
St. Leander was no less zealous in the reformation of manners than in restoring the purity of faith; and he planted the seeds of that zeal and fervor which afterwards produced so many martyrs and Saints.
This holy doctor of Spain died about the year 596, on the 27th of February, as Mabillon proves from his epitaph.
The Church of Seville has been a metropolitan see ever since the third century. The cathedral is the most magnificent, both as to structure and ornament, of any in all Spain.
Excerpted from Lives of the Saints, by Alban Butler, Benziger Bros. ed. [1894]
---

Thursday after Ash Wednesday, Station with San Giorgio in Velabro (St. George at Velabrum):
Pope St. Gregory established a diaconia, an institution that cared for the poor, at the site of this church. The area has a special place in the history of Rome, as an ancient tradition claims that it was here that Romulus killed his brother Remus before founding the city.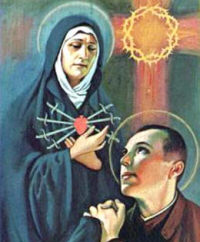 MASS READINGS
February 27, 2020 (Readings on USCCB website)
COLLECT PRAYER
Prompt our actions with your inspiration, we pray, O Lord, and further them with your constant help, that all we do may always begin from you and by you be brought to completion. Through our Lord Jesus Christ, your Son, who lives and reigns with you in the unity of the Holy Spirit, one God, for ever and ever.
https://www.catholicculture.org/culture/liturgicalyear/calendar/day.cfm?date=2020-02-27
Meditation: Deuteronomy 30:15-20
Thursday after Ash Wednesday
Choose life, then, that you and your descendants may live. (Deuteronomy 30:19)
Do you want Lent to be fruitful this year? Try thinking of it as a journey you're taking with the disciples as Jesus prepares for his passion, death, and resurrection. You will hear Jesus preach and tell parables; you will see him heal and feed the needy. How will you respond? Each day, each step of the journey gives you another chance to choose to follow him.
Following the Lord requires choosing. Each reading today says so. Moses gives his farewell address to the Israelites, and his main point is that if they want to receive God's life, they have to choose to follow and obey him (Deuteronomy 30:15-20). Jesus predicts his passion and gives the disciples a list of things they need to choose to do: deny themselves, take up their crosses daily, and follow him (Luke 9:23). Even today's psalm describes the blessed people who follow the Lord—they choose not to follow the counsel of the wicked; they delight in God's law. As a result, they are like a well-watered, fruitful tree (Psalm 1:1-3).
The same is true for us: choosing to follow God gives us life. So go ahead and spend a little more time in prayer or Scripture reading. Attend your parish's Stations of the Cross. Give to the poor, whether you talk with the homeless man on the street corner or spend an afternoon preparing meals at a shelter. Wash your family's dirty dishes or pick up after your loved ones with a smile.
This might sound like a spiritual to-do list. But there's more to it than that. As you take more time to pray, you may notice a sense of joy welling up in you, even in difficulty. As you reach out to give to the needy, you may get a clearer glimpse of Jesus' love for the poor. As you choose to serve your family even when you're aggravated, you may discover a new sense of peace. Every decision to follow Jesus nourishes your soul like a river watering a tree (Psalm 1:3).
So rely on God's grace and say yes to him. As you journey with Jesus through Lent, you'll start resembling him more in your thoughts, words, and actions. That's what his life does in you!
"Lord, help me choose to walk with you today."
Psalm 1:1-4, 6
Luke 9:22-25
Feast Days and Holy Days of Obligation for 2020
In addition to EVERY SUNDAY
The Holy Days of Obligation are the days

(outside of Sundays)

on which Catholics gather together to celebrate the mysteries of our faith as a community. This "obligation" is familial because we are responsible as a family of faith in mutually supporting one another. Gathering together in our parishes and communities on Sundays and Holy Days of Obligation helps us to "encourage one another and build one another up…"
(1 Thessalonians 5:11)
Holy Days for 2020*
Wednesday, January 1, 2020

– Solemnity of Mary, Mother of God


Thursday, May 21, 2020

– Ascension of the Lord – a holy day of obligation

Saturday, August 15, 2020

– Assumption of Mary – a holy day of obligation

Sunday, November 1, 2020

– All Saints –


Tuesday, December 8, 2020

– Immaculate Conception – a holy day of obligation

Friday, December 25, 2020

– Christmas – always a holy day

Friday, January 1, 2021

– Solemnity of Mary, Mother of God
*Whenever January 1, the Solemnity of Mary, Mother of God, or August 15, the Solemnity of the Assumption, or November 1, the Solemnity of All Saints, falls on a Saturday or on a Monday, the precept to attend Mass is abrogated.
Other important liturgical days:
Ash Wednesday: February 26, 2020
Palm Sunday: April 5, 2020
Holy Thursday: April 9, 2020
Good Friday: April 10, 2020
Easter Sunday: April 12, 2020
Pentecost Sunday: May 31 , 2020
The Most Holy Body and Blood of Christ: Sunday,June 14, 2020
The Most Sacred Heart of Jesus: Friday, June 19, 2020
First Sunday of Advent: November 29, 2020
The

Eight Beatitudes

form the core of the Christian life. As Fr. John A. Hardon, S.J., writes in his Modern Catholic Dictionary, they are the "

promises of happiness

made by Christ to those who faithfully accept his teaching and follow his divine example." That happiness is not in the future but

now

for those who conform their lives to Christ.
Blessed are the poor in spirit, for theirs is the kingdom of heaven.
Blessed are those who mourn, for they shall be comforted.
Blessed are the meek, for they shall inherit the earth.
Blessed are those who hunger and thirst for righteousness, for they shall be satisfied.
Blessed are the merciful, for they shall obtain mercy.
Blessed are the pure in heart, for they shall see God.
Blessed are the peacemakers, for they shall be called sons of God.

Blessed are those who are persecuted for righteousness' sake, for theirs is the kingdom of heaven.

Blessed are you when men revile you and persecute you and utter all kinds of evil against you falsely on my account. Rejoice and be glad, for your reward is great in heaven."
The "Angelus"
Powerful Daily Prayer
This wonderful prayer evolved from a recitation of three Hail Mary's following an evening bell around the 12th century to its present form (with morning and midday recitations) in the 16th century.
V. The Angel of the Lord declared unto Mary.
R. And she conceived of the Holy Spirit.
Hail Mary, full of grace,
The Lord is with Thee;
Blessed art thou among women,
And blessed is the fruit of thy womb, Jesus.
Holy Mary, Mother of God,
Pray for us sinners,
Now and at the hour of our death. Amen
V. Behold the handmaid of the Lord.
R. Be it done unto me according to thy word.
Hail Mary, etc.
V. And the Word was made Flesh.
R. And dwelt among us.
Hail Mary, etc.
V. Pray for us, O holy Mother of God.
R. That we may be made worthy of the promises of Christ.
LET US PRAY
Pour forth, we beseech Thee, O Lord, Thy grace into our hearts, that we to whom the Incarnation of Christ Thy Son was made known by the message of an angel, may by His Passion and Cross be brought to the glory of His Resurrection. Through the same Christ Our Lord. Amen.
May the Divine assistance remain always with us and may the souls of the faithful departed, through the mercy of God, rest in peace. Amen.
When prayed in a group setting a leader recites the verses and everyone recites both the responses and the Hail Mary's in between each verse, as shown above.
Although the Angelus has been traditionally said three times daily, at 6 am, noon and 6 pm, you can pray it at anytime especially at NOON. It is still accompanied by the ringing of a bell (the Angelus bell) in some places such as Vatican City and parts of Germany and Ireland.

The Divine Praises
Blessed be God.
Blessed be His Holy Name.
Blessed be Jesus Christ, true God and true man.
Blessed be the name of Jesus.
Blessed be His Most Sacred Heart.
Blessed be Jesus in the Most Holy Sacrament of the Altar.
Blessed be the Holy Spirit, the paraclete.
Blessed be the great Mother of God, Mary most holy.
Blessed be her holy and Immaculate Conception.
Blessed be her glorious Assumption.
Blessed be the name of Mary, Virgin and Mother.
Blessed be Saint Joseph, her most chaste spouse.
Blessed be God in His angels and in His Saints.
May the heart of Jesus, in the Most Blessed Sacrament, be praised, adored, and loved with grateful affection, at every moment, in all the tabernacles of the world, even to the end of time. Amen




PRAYER TO THE INFANT OF PRAGUE

O Infant of Prague, who said, "The more you honor me, the more I will bless you," give us the strength to bear the burden of daily life in this sinful world. Give us a firm purpose of amendment and a resolve to lead a better life. Help us endure our afflictions and sorrows with patience and courage. Finally, O beloved Infant King if it be your will grant my petition (mention petition here). But whatever you choose, give me the strength to submit to your will in all things. Amen.

LORD, JESUS CHRIST, I AM DEEPLY SORRY FOR MY SINS. HAVE MERCY ON ME. In Your name, JESUS, I ask You for the grace to forgive myself. I ask your forgiveness for hurting others. I ask for the grace to forgive all those who have hurt me in this life, and especially the one person who has hurt me the most. I renounce forever Satan, ALL the evil spirits and all their works. I give you my entire self Lord JESUS, now and forever, you are my Lord, God, SAVIOR AND REDEEMER. Please heal me, change me, strengthen me in body, mind and spirit for my greater service in Your Kingdom. Allow me to lead other souls to You through my good example. JESUS I trust in you! Come Lord JESUS, cover me with Your most precious blood, and fill me with Your Holy Spirit, I praise You, I thank You, I glorify Your name, JESUS. I love You JESUS WITH MY WHOLE HEART, SOUL, MIND, BODY AND MY WHOLE BEING. O' Blessed Virgin Mary, Mother of God, with Holy Raphael the Archangel and all the holy Angels and Saints, pray for us! Amen
Holy Raphael says in Chapter 12 in the
BOOK OF TOBIT 12:7-10
7 A king's secret it is prudent to keep, but the works of God are to be declared and made known. Praise them with due honor. Do good, and evil will not find its way to you.
8 Prayer and fasting are good, but better than either is almsgiving accompanied by righteousness. A little with righteousness is better than abundance with wickedness. It is better to give alms than to store up gold;
We must work in the Vineyard and

not return to GOD with empty hands!
To feed the hungry;
To give drink to the thirsty;
To clothe the naked;
To visit the imprisoned;
To visit the sick;
To shelter the homeless;
To bury the dead.
To instruct the ignorant;
To counsel the doubtful;
To admonish the sinner;
To bear wrongs patiently;
To forgive offences willingly;
To comfort the sorrowful;
To pray for the living and the dead.
44 Messianic Prophecies of Jesus
Prophecies of Jesus
Old Testament
Scripture
New Testament
Fulfillment
1
Messiah would be born of a woman.
Genesis 3:15
Matthew 1:20
Galatians 4:4
2
Messiah would be born in Bethlehem.
Micah 5:2
Matthew 2:1
Luke 2:4-6
3
Messiah would be born of a virgin.
Isaiah 7:14
Matthew 1:22-23
Luke 1:26-31
4
Messiah would come from the line ofAbraham.
Genesis 12:3
Genesis 22:18
Matthew 1:1
Romans 9:5
5
Messiah would be a descendant of Isaac.
Genesis 17:19
Genesis 21:12
Luke 3:34
6
Messiah would be a descendant of Jacob.
Numbers 24:17
Matthew 1:2
7
Messiah would come from the tribe of Judah.
Genesis 49:10
Luke 3:33
Hebrews 7:14
8
Messiah would be heir to King David's throne.
2 Samuel 7:12-13
Isaiah 9:7
Luke 1:32-33
Romans 1:3
9
Messiah's throne will be anointed and eternal.
Psalm 45:6-7
Daniel 2:44
Luke 1:33
Hebrews 1:8-12
10
Messiah would be called Immanuel.
Isaiah 7:14
Matthew 1:23
11
Messiah would spend a season in Egypt.
Hosea 11:1
Matthew 2:14-15
12
A massacre of children would happen at Messiah's birthplace.
Jeremiah 31:15
Matthew 2:16-18
13
A messenger would prepare the way for Messiah
Isaiah 40:3-5
Luke 3:3-6
14
Messiah would be rejected by his own people.
Psalm 69:8
Isaiah 53:3
John 1:11
John 7:5
15
Messiah would be a prophet.
Deuteronomy 18:15
Acts 3:20-22
16
Messiah would be preceded by Elijah.
Malachi 4:5-6
Matthew 11:13-14
17
Messiah would be declared the Son of God.
Psalm 2:7
Matthew 3:16-17
18
Messiah would be called a Nazarene.
Isaiah 11:1
Matthew 2:23
19
Messiah would bring light to Galilee.
Isaiah 9:1-2
Matthew 4:13-16
20
Messiah would speak in parables.
Psalm 78:2-4
Isaiah 6:9-10
Matthew 13:10-15, 34-35
21
Messiah would be sent to heal the brokenhearted.
Isaiah 61:1-2
Luke 4:18-19
22
Messiah would be a priest after the order of Melchizedek.
Psalm 110:4
Hebrews 5:5-6
23
Messiah would be called King.
Psalm 2:6
Zechariah 9:9
Matthew 27:37
Mark 11:7-11
24
Messiah would be praised by little children.
Psalm 8:2
Matthew 21:16
25
Messiah would be betrayed.
Psalm 41:9
Zechariah 11:12-13
Luke 22:47-48
Matthew 26:14-16
26
Messiah's price money would be used to buy a potter's field.
Zechariah 11:12-13
Matthew 27:9-10
27
Messiah would be falsely accused.
Psalm 35:11
Mark 14:57-58
28
Messiah would be silent before his accusers.
Isaiah 53:7
Mark 15:4-5
29
Messiah would be spat upon and struck.
Isaiah 50:6
Matthew 26:67
30
Messiah would be hated without cause.
Psalm 35:19
Psalm 69:4
John 15:24-25
31
Messiah would be crucified with criminals.
Isaiah 53:12
Matthew 27:38
Mark 15:27-28
32
Messiah would be given vinegar to drink.
Psalm 69:21
Matthew 27:34
John 19:28-30
33
Messiah's hands and feet would be pierced.
Psalm 22:16
Zechariah 12:10
John 20:25-27
34
Messiah would be mocked and ridiculed.
Psalm 22:7-8
Luke 23:35
35
Soldiers would gamble for Messiah's garments.
Psalm 22:18
Luke 23:34
Matthew 27:35-36
36
Messiah's bones would not be broken.
Exodus 12:46
Psalm 34:20
John 19:33-36
37
Messiah would be forsaken by God.
Psalm 22:1
Matthew 27:46
38
Messiah would pray for his enemies.
Psalm 109:4
Luke 23:34
39
Soldiers would pierce Messiah's side.
Zechariah 12:10
John 19:34
40
Messiah would be buried with the rich.
Isaiah 53:9
Matthew 27:57-60
41
Messiah would resurrect from the dead.
Psalm 16:10
Psalm 49:15
Matthew 28:2-7
Acts 2:22-32
42
Messiah would ascend to heaven.
Psalm 24:7-10
Mark 16:19
Luke 24:51
43
Messiah would be seated at God's right hand.
Psalm 68:18
Psalm 110:1
Mark 16:19
Matthew 22:44
44
Messiah would be a sacrifice for sin.
Isaiah 53:5-12
Romans 5:6-8
MIRACLES OF JESUS CHRIST

Healing Miracles

| | | | | |
| --- | --- | --- | --- | --- |
| Recipient | Matthew | Mark | Luke | John |
| Official's son | | | | 4:46-54 |
| Possessed man | | 1:21-27 | 4:33-37 | |
| Peter's in-law | 8:14-15 | 1:29-31 | 4:38-39 | |
| Many at sunset | 8:16-17 | 1:32-39 | 4:40-41 | |
| Leper | 8:1-4 | 1:40-45 | 5:12-15 | |
| Paralytic | 9:1-8 | 2:1-12 | 5:18-26 | |
| Man at Bethesda | | | | 5:1-17 |
| Withered hand | 12:9-13 | 3:1-6 | 6:6-11 | |
| Crowd in Galilee | 4:23-25 | | | |
| Centurion's son | 8:5-13 | | 7:1-10 | |
| Widow's son | | | 7:11-17 | |
| 2 demoniacs | 8:28-34 | 5:1-20 | 8:26-39 | |
| Jairus daughter-1 | 9:18-19 | 5:22-24 | 8:41-42 | |
| Unclean woman | 9:20-22 | 5:24-34 | 8:49-56 | |
| Jairus daughter-2 | 9:23-26 | 5:35-43 | 8:49-56 | |
| 2 blind men | 9:27-31 | | | |
| Dumb man | 9:32-34 | | | |
| Touching clothes | 14:34-36 | 6:53-56 | | |
| Crowd in Galilee | 9:35 | | | |
| Few in Nazareth | | 6:1-6 | | |
| Gentile's daughter | 15:21-28 | 7:24-30 | | |
| Deaf man | | 7:31-37 | | |
| Multitude | 15:29-31 | | | |
| Epileptic boy | 17:14-21 | 9:14-29 | 9:37-42 | |
| Blind man | | | | 9:1-41 |
| Blind/dumb man | 12:22-24 | | 11:14-15 | |
| Man of Bethsaida | | 8:22-26 | | |
| Stooped woman | | | 13:10-17 | |
| Manwith Dropsy | | | 14:1-16 | |
| Lazarus raised | | | | 11:1-45 |
| Ten Lepers | | | 17:11-19 | |
| Crowds in Judea | 19:1-2 | | | |
| Bartimaeus | 20:29-34 | 10:46-52 | 18:35-43 | |
| Many in Jerusalem | 21:14 | | | |
| Ear of Malchus | | | 22:47-53 | 18:10-11 |
| Resurrection | 28:1-10 | 16:1-20 | 24:1-53 | 20:1-31 |

Other Miracles

| | | | | |
| --- | --- | --- | --- | --- |
| Event | Matthew | Mark | Luke | John |
| Water to wine | | | | 2:1-11 |
| 1st catch of fish | | | 5:1-11 | |
| Calms a sea | 8:23-27 | 4:35-41 | 8:22-25 | |
| Feeds 5000 | 14:13-21 | 6:32-44 | 9:10-17 | 6:1-13 |
| Walks on water | 14:22-33 | 6:45-51 | | 6:15-21 |
| Feeds 4000 | 15:32-39 | 8:1-10 | | |
| Money in fish | 17:24-27 | | | |
| Tree withered | 21:18-22 | 11:12-24 | | |
| 2nd catch of fish | | | | 21:1-14 |