The Twelve drove out many demons,
and they anointed with oil many who were sick and cured them.
Mark 6:13
The month of October is dedicated to the Holy Rosary. The Memorial of Our Lady of the Rosary is celebrated on October 7. October falls during the liturgical season known as Ordinary Time, which is represented by the liturgical color green.
The Holy Father's Intentions for the Month of October 2019
A Missionary "Spring" in the Church: That the breath of the Holy Spirit engender a new missionary "spring" in the church. (See also http://www.popesprayerusa.net/)
Angel of God, my guardian dear, to whom God's love commits me here, ever this day be at my side, to light and guard, to rule and guide. Amen.
Fr. Joe Whalen, M.S. and Fr. John Welch, M.S. celebrating
Mass at the North American Martyrs Shrine
Auriesville, New York 9-10-2011
ANGEL OF FATIMA PARDON PRAYER
MY GOD, I believe, I adore, I trust, and I love Thee! I ask pardon for those who do not believe, do not adore and do not trust Thee. Amen
Ordinary Time:
October 19
Memorial of Sts. Isaac Jogues and John de Brebeuf, priests and martyrs and companions, martyrs
Today in the dioceses of the United States the Church celebrates the optional memorial of Sts. Issac Jogues and John de Brébeuf (priests and martyrs) and their companions (martyrs). They were Jesuit missionaries who died as martyrs in North America where they preached the Gospel.
According to the 1962 Missal of St. John XXIII the Extraordinary Form of the Roman Rite, today is the feast of St. Peter of Alcantara, priest. He was one of St. Teresa's spiritual directors and encouraged her in her reformation of the Carmelite Order.
---
St. Isaac Jogues, St. John de Brébeuf and Companions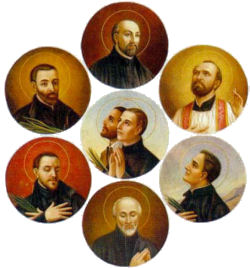 French Jesuits were the first missionaries to go to Canada and North America after J. Cartier discovered Canada in 1534. Their mission region extended from Nova Scotia to Maryland. Isaac Jogues, John de Brebeuf, Gabriel Lalemant, Noel Chabanel, Charles Garnier, Anthony Daniel, Rene Goupil and John de Lalande (the first six Jesuits, the last two laymen) preached the gospel to the Iroquois and Huron Indians, and after being tortured, they were martyred in the area of what is now Auriesville, New York. The martyrdoms took place between 1642 and 1649. Ten years after the martyrdom of St. Isaac Jogues, Kateri Tekakwitha was born in the same village in which he died. These martyrs are co-patrons of Canada.
The missionaries arrived in Canada less than a century after its discovery by Cartier in 1534, in the hope of converting the Indians and setting up "New France." Their opponents were often the English and Dutch colonists. When Isaac Jogues returned to Paris after his first capture and torture, he said to his superior: "Yes, Father, I want whatever our Lord wants, even if it costs a thousand lives." He had written in his mission report: "These tortures are very great, but God is still greater, and immense."
In the Office of Readings we have an excerpt from the mission journal of St. John de Brébeuf, who had been a student of the great Jesuit spiritual writer, Louis Lallemant. He wrote:
For two days now I have experienced a great desire to be a martyr and to endure all the torments the martyrs suffered…. I vow to you, Jesus my Savior, that as far as I have the strength I will never fail to accept the grace of martyrdom, if some day you in your infinite mercy should offer it to me, your most unworthy servant…. On receiving the blow of death, I shall accept it from your hands with the fullest delight and joy of spirit…. My God, it grieves me greatly that you are not known, that in this savage wilderness all have not been converted to you, that sin has not been driven from it.
Excerpted from Saints of the Roman Calendar by Enzo Lodi
Patron: Americas; Canada.
Symbols: men dressed in Jesuit black robes with crucifix in hands; IHS is the symbol for the Society of Jesus; red (color for martyrdom); red roses (symbol of martyrdom);
Things to Do:
Pray to the Holy Spirit to renew the evangelization of distant countries as well as the re-evangelization of our own nation.
More Christians have been martyred in the 20th century than in the previous nineteen centuries combined. For example, pastors are being arrested and sometimes shot in China and Cuba. Believers are forbidden to buy goods or own property in Somalia. Christians who testify to their faith in Iran or Saudi Arabia may be put to death for blasphemy. Mobs have wiped out whole villages of Christians in Pakistan. Pray for courageous and zealous missionaries in these countries where the Church is persecuted.
Support the Indian Missions in the USA.
Visit the National Shrine of the North American Martyrs in Auriesville, New York. This site offers a wonderful gallery of pictures of the shrine.
Learn more about each of the martyrs. You might also like to read this definitive scholarly biography, Saint Among Savages: The Life of St. Isaac Jogues, by Francis Talbot, S.J.
Learn for Christmas the Indian Christmas Carol, the first American Christmas carol John de Brébeuf wrote to teach the Christmas story to the Huron Indians.
---
St. Peter of Alcantara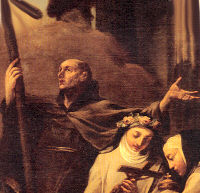 Peter, surnamed Alcantara after the town of his birth, was eminent among the saints of the sixteenth century for an extraordinary spirit of penance and for attaining the heights of contemplation. He was a great mystic. Born in 1499, at the age of sixteen he entered the Order of Friars Minor. He was an apostle of spiritual reform in his own community and aided St. Teresa in her reform of the Carmelites. God revealed to her that no one would remain unheard who begged in the name of Peter; thereafter she was most eager to have his prayers and honored him as a saint while he was still alive. With great humility Peter shunned all favors from eminent personages, even though they esteemed him as the mouthpiece of God or asked his counsel; for instance, he declined the request to act as confessor to Charles V. Although she was at quite a distance at the time of his death, St. Teresa saw his soul entering heaven. Later he appeared to her and said: "O happy penances which won for me such blessedness!"
Excerpted from The Church's Year of Grace, Pius Parsch
Patron: Brazil (named by Pope Blessed Pius IX in 1862); Estremadura, Spain (named in 1962); watchmen.
Symbols: Cross of twigs or boughs; ladder and star; dove; star.
Things to Do:
Born of wealthy parents, highly educated, and eminently successful, Peter of Alcantara left all things so that he might find in the poverty of Christ the inestimable riches of God. Meditate on how to be poor in spirit (Fr. Thomas Dubay's book, Happy Are You Poor: The Simple Life and Spiritual Freedom, is a good place to start).
Pray for all those with power, authority, status, privilege and assets, that they will come to Jesus in humility and poverty of spirit and that as a result of this on-going conversion, they will change their ways and manners of living.
Imitate St. Peter's self-denial by fasting and sacrificing a little sleep by getting up early enough to go to Mass.
Feast Days and Holy Days of Obligation for 2019
In addition to EVERY SUNDAY
The Holy Days of Obligation are the days

(outside of Sundays)

on which Catholics gather together to celebrate the mysteries of our faith as a community. This "obligation" is familial because we are responsible as a family of faith in mutually supporting one another. Gathering together in our parishes and communities on Sundays and Holy Days of Obligation helps us to "encourage one another and build one another up…"
(1 Thessalonians 5:11)
Holy Days for 2019*
Tuesday, January 1, 2019

– Solemnity of Mary, Mother of God


Thursday, May 30, 2019

– Ascension of the Lord – a holy day of obligation

Thursday, August 15, 2019

– Assumption of Mary – a holy day of obligation

Friday, November 1, 2019

– All Saints – a holy day of obligation

Monday, December 9, 2019

– Immaculate Conception – a holy day of obligation

Wednesday, December 25, 2019

– Christmas – always a holy day

Wednesday, January 1, 2020

– Solemnity of Mary, Mother of God
*Whenever January 1, the Solemnity of Mary, Mother of God, or August 15, the Solemnity of the Assumption, or November 1, the Solemnity of All Saints, falls on a Saturday or on a Monday, the precept to attend Mass is abrogated.
Other important liturgical days:
Ash Wednesday: March 6, 2019
Palm Sunday: April 14, 2019
Holy Thursday: April 18, 2019
Good Friday: April 19, 2019
Easter Sunday: April 21, 2019
Pentecost Sunday: June 9 , 2019
The Most Holy Body and Blood of Christ: Sunday,June 23, 2019
The Most Sacred Heart of Jesus: Friday, June 28, 2019
First Sunday of Advent: December 1, 2019
The

Eight Beatitudes

form the core of the Christian life. As Fr. John A. Hardon, S.J., writes in his Modern Catholic Dictionary, they are the "

promises of happiness

made by Christ to those who faithfully accept his teaching and follow his divine example." That happiness is not in the future but

now

for those who conform their lives to Christ.
Blessed are the poor in spirit, for theirs is the kingdom of heaven.
Blessed are those who mourn, for they shall be comforted.
Blessed are the meek, for they shall inherit the earth.
Blessed are those who hunger and thirst for righteousness, for they shall be satisfied.
Blessed are the merciful, for they shall obtain mercy.
Blessed are the pure in heart, for they shall see God.
Blessed are the peacemakers, for they shall be called sons of God.

Blessed are those who are persecuted for righteousness' sake, for theirs is the kingdom of heaven.

Blessed are you when men revile you and persecute you and utter all kinds of evil against you falsely on my account. Rejoice and be glad, for your reward is great in heaven."
The "Angelus"
Powerful Daily Prayer
This wonderful prayer evolved from a recitation of three Hail Mary's following an evening bell around the 12th century to its present form (with morning and midday recitations) in the 16th century.
V. The Angel of the Lord declared unto Mary.
R. And she conceived of the Holy Spirit.
Hail Mary, full of grace,
The Lord is with Thee;
Blessed art thou among women,
And blessed is the fruit of thy womb, Jesus.
Holy Mary, Mother of God,
Pray for us sinners,
Now and at the hour of our death. Amen
V. Behold the handmaid of the Lord.
R. Be it done unto me according to thy word.
Hail Mary, etc.
V. And the Word was made Flesh.
R. And dwelt among us.
Hail Mary, etc.
V. Pray for us, O holy Mother of God.
R. That we may be made worthy of the promises of Christ.
LET US PRAY
Pour forth, we beseech Thee, O Lord, Thy grace into our hearts, that we to whom the Incarnation of Christ Thy Son was made known by the message of an angel, may by His Passion and Cross be brought to the glory of His Resurrection. Through the same Christ Our Lord. Amen.
May the Divine assistance remain always with us and may the souls of the faithful departed, through the mercy of God, rest in peace. Amen.
When prayed in a group setting a leader recites the verses and everyone recites both the responses and the Hail Mary's in between each verse, as shown above.
Although the Angelus has been traditionally said three times daily, at 6 am, noon and 6 pm, you can pray it at anytime especially at NOON. It is still accompanied by the ringing of a bell (the Angelus bell) in some places such as Vatican City and parts of Germany and Ireland.

The Divine Praises
Blessed be God.
Blessed be His Holy Name.
Blessed be Jesus Christ, true God and true man.
Blessed be the name of Jesus.
Blessed be His Most Sacred Heart.
Blessed be Jesus in the Most Holy Sacrament of the Altar.
Blessed be the Holy Spirit, the paraclete.
Blessed be the great Mother of God, Mary most holy.
Blessed be her holy and Immaculate Conception.
Blessed be her glorious Assumption.
Blessed be the name of Mary, Virgin and Mother.
Blessed be Saint Joseph, her most chaste spouse.
Blessed be God in His angels and in His Saints.
May the heart of Jesus, in the Most Blessed Sacrament, be praised, adored, and loved with grateful affection, at every moment, in all the tabernacles of the world, even to the end of time. Amen

PRAYER TO THE INFANT OF PRAGUE

O Infant of Prague, who said, "The more you honor me, the more I will bless you," give us the strength to bear the burden of daily life in this sinful world. Give us a firm purpose of amendment and a resolve to lead a better life. Help us endure our afflictions and sorrows with patience and courage. Finally, O beloved Infant King if it be your will grant my petition (mention petition here). But whatever you choose, give me the strength to submit to your will in all things. Amen.

LORD, JESUS CHRIST, I AM DEEPLY SORRY FOR MY SINS. HAVE MERCY ON ME. In Your name, JESUS, I ask You for the grace to forgive myself. I ask your forgiveness for hurting others. I ask for the grace to forgive all those who have hurt me in this life, and especially the one person who has hurt me the most. I renounce forever Satan, ALL the evil spirits and all their works. I give you my entire self Lord JESUS, now and forever, you are my Lord, God, SAVIOR AND REDEEMER. Please heal me, change me, strengthen me in body, mind and spirit for my greater service in Your Kingdom. Allow me to lead other souls to You through my good example. JESUS I trust in you! Come Lord JESUS, cover me with Your most precious blood, and fill me with Your Holy Spirit, I praise You, I thank You, I glorify Your name, JESUS. I love You JESUS WITH MY WHOLE HEART, SOUL, MIND, BODY AND MY WHOLE BEING. O' Blessed Virgin Mary, Mother of God, with Holy Raphael the Archangel and all the holy Angels and Saints, pray for us! Amen
Holy Raphael says in Chapter 12 in the
BOOK OF TOBIT 12:7-10
7 A king's secret it is prudent to keep, but the works of God are to be declared and made known. Praise them with due honor. Do good, and evil will not find its way to you.
8 Prayer and fasting are good, but better than either is almsgiving accompanied by righteousness. A little with righteousness is better than abundance with wickedness. It is better to give alms than to store up gold;
We must work in the Vineyard and

not return to GOD with empty hands!
To feed the hungry;
To give drink to the thirsty;
To clothe the naked;
To visit the imprisoned;
To visit the sick;
To shelter the homeless;
To bury the dead.
To instruct the ignorant;
To counsel the doubtful;
To admonish the sinner;
To bear wrongs patiently;
To forgive offences willingly;
To comfort the sorrowful;
To pray for the living and the dead.
44 Messianic Prophecies of Jesus
Prophecies of Jesus
Old Testament
Scripture
New Testament
Fulfillment
1
Messiah would be born of a woman.
Genesis 3:15
Matthew 1:20
Galatians 4:4
2
Messiah would be born in Bethlehem.
Micah 5:2
Matthew 2:1
Luke 2:4-6
3
Messiah would be born of a virgin.
Isaiah 7:14
Matthew 1:22-23
Luke 1:26-31
4
Messiah would come from the line ofAbraham.
Genesis 12:3
Genesis 22:18
Matthew 1:1
Romans 9:5
5
Messiah would be a descendant of Isaac.
Genesis 17:19
Genesis 21:12
Luke 3:34
6
Messiah would be a descendant of Jacob.
Numbers 24:17
Matthew 1:2
7
Messiah would come from the tribe of Judah.
Genesis 49:10
Luke 3:33
Hebrews 7:14
8
Messiah would be heir to King David's throne.
2 Samuel 7:12-13
Isaiah 9:7
Luke 1:32-33
Romans 1:3
9
Messiah's throne will be anointed and eternal.
Psalm 45:6-7
Daniel 2:44
Luke 1:33
Hebrews 1:8-12
10
Messiah would be called Immanuel.
Isaiah 7:14
Matthew 1:23
11
Messiah would spend a season in Egypt.
Hosea 11:1
Matthew 2:14-15
12
A massacre of children would happen at Messiah's birthplace.
Jeremiah 31:15
Matthew 2:16-18
13
A messenger would prepare the way for Messiah
Isaiah 40:3-5
Luke 3:3-6
14
Messiah would be rejected by his own people.
Psalm 69:8
Isaiah 53:3
John 1:11
John 7:5
15
Messiah would be a prophet.
Deuteronomy 18:15
Acts 3:20-22
16
Messiah would be preceded by Elijah.
Malachi 4:5-6
Matthew 11:13-14
17
Messiah would be declared the Son of God.
Psalm 2:7
Matthew 3:16-17
18
Messiah would be called a Nazarene.
Isaiah 11:1
Matthew 2:23
19
Messiah would bring light to Galilee.
Isaiah 9:1-2
Matthew 4:13-16
20
Messiah would speak in parables.
Psalm 78:2-4
Isaiah 6:9-10
Matthew 13:10-15, 34-35
21
Messiah would be sent to heal the brokenhearted.
Isaiah 61:1-2
Luke 4:18-19
22
Messiah would be a priest after the order of Melchizedek.
Psalm 110:4
Hebrews 5:5-6
23
Messiah would be called King.
Psalm 2:6
Zechariah 9:9
Matthew 27:37
Mark 11:7-11
24
Messiah would be praised by little children.
Psalm 8:2
Matthew 21:16
25
Messiah would be betrayed.
Psalm 41:9
Zechariah 11:12-13
Luke 22:47-48
Matthew 26:14-16
26
Messiah's price money would be used to buy a potter's field.
Zechariah 11:12-13
Matthew 27:9-10
27
Messiah would be falsely accused.
Psalm 35:11
Mark 14:57-58
28
Messiah would be silent before his accusers.
Isaiah 53:7
Mark 15:4-5
29
Messiah would be spat upon and struck.
Isaiah 50:6
Matthew 26:67
30
Messiah would be hated without cause.
Psalm 35:19
Psalm 69:4
John 15:24-25
31
Messiah would be crucified with criminals.
Isaiah 53:12
Matthew 27:38
Mark 15:27-28
32
Messiah would be given vinegar to drink.
Psalm 69:21
Matthew 27:34
John 19:28-30
33
Messiah's hands and feet would be pierced.
Psalm 22:16
Zechariah 12:10
John 20:25-27
34
Messiah would be mocked and ridiculed.
Psalm 22:7-8
Luke 23:35
35
Soldiers would gamble for Messiah's garments.
Psalm 22:18
Luke 23:34
Matthew 27:35-36
36
Messiah's bones would not be broken.
Exodus 12:46
Psalm 34:20
John 19:33-36
37
Messiah would be forsaken by God.
Psalm 22:1
Matthew 27:46
38
Messiah would pray for his enemies.
Psalm 109:4
Luke 23:34
39
Soldiers would pierce Messiah's side.
Zechariah 12:10
John 19:34
40
Messiah would be buried with the rich.
Isaiah 53:9
Matthew 27:57-60
41
Messiah would resurrect from the dead.
Psalm 16:10
Psalm 49:15
Matthew 28:2-7
Acts 2:22-32
42
Messiah would ascend to heaven.
Psalm 24:7-10
Mark 16:19
Luke 24:51
43
Messiah would be seated at God's right hand.
Psalm 68:18
Psalm 110:1
Mark 16:19
Matthew 22:44
44
Messiah would be a sacrifice for sin.
Isaiah 53:5-12
Romans 5:6-8
MIRACLES OF JESUS CHRIST

Healing Miracles

| | | | | |
| --- | --- | --- | --- | --- |
| Recipient | Matthew | Mark | Luke | John |
| Official's son | | | | 4:46-54 |
| Possessed man | | 1:21-27 | 4:33-37 | |
| Peter's in-law | 8:14-15 | 1:29-31 | 4:38-39 | |
| Many at sunset | 8:16-17 | 1:32-39 | 4:40-41 | |
| Leper | 8:1-4 | 1:40-45 | 5:12-15 | |
| Paralytic | 9:1-8 | 2:1-12 | 5:18-26 | |
| Man at Bethesda | | | | 5:1-17 |
| Withered hand | 12:9-13 | 3:1-6 | 6:6-11 | |
| Crowd in Galilee | 4:23-25 | | | |
| Centurion's son | 8:5-13 | | 7:1-10 | |
| Widow's son | | | 7:11-17 | |
| 2 demoniacs | 8:28-34 | 5:1-20 | 8:26-39 | |
| Jairus daughter-1 | 9:18-19 | 5:22-24 | 8:41-42 | |
| Unclean woman | 9:20-22 | 5:24-34 | 8:49-56 | |
| Jairus daughter-2 | 9:23-26 | 5:35-43 | 8:49-56 | |
| 2 blind men | 9:27-31 | | | |
| Dumb man | 9:32-34 | | | |
| Touching clothes | 14:34-36 | 6:53-56 | | |
| Crowd in Galilee | 9:35 | | | |
| Few in Nazareth | | 6:1-6 | | |
| Gentile's daughter | 15:21-28 | 7:24-30 | | |
| Deaf man | | 7:31-37 | | |
| Multitude | 15:29-31 | | | |
| Epileptic boy | 17:14-21 | 9:14-29 | 9:37-42 | |
| Blind man | | | | 9:1-41 |
| Blind/dumb man | 12:22-24 | | 11:14-15 | |
| Man of Bethsaida | | 8:22-26 | | |
| Stooped woman | | | 13:10-17 | |
| Manwith Dropsy | | | 14:1-16 | |
| Lazarus raised | | | | 11:1-45 |
| Ten Lepers | | | 17:11-19 | |
| Crowds in Judea | 19:1-2 | | | |
| Bartimaeus | 20:29-34 | 10:46-52 | 18:35-43 | |
| Many in Jerusalem | 21:14 | | | |
| Ear of Malchus | | | 22:47-53 | 18:10-11 |
| Resurrection | 28:1-10 | 16:1-20 | 24:1-53 | 20:1-31 |

Other Miracles

| | | | | |
| --- | --- | --- | --- | --- |
| Event | Matthew | Mark | Luke | John |
| Water to wine | | | | 2:1-11 |
| 1st catch of fish | | | 5:1-11 | |
| Calms a sea | 8:23-27 | 4:35-41 | 8:22-25 | |
| Feeds 5000 | 14:13-21 | 6:32-44 | 9:10-17 | 6:1-13 |
| Walks on water | 14:22-33 | 6:45-51 | | 6:15-21 |
| Feeds 4000 | 15:32-39 | 8:1-10 | | |
| Money in fish | 17:24-27 | | | |
| Tree withered | 21:18-22 | 11:12-24 | | |
| 2nd catch of fish | | | | 21:1-14 |