2023 SCHEDULE FOR MONTHLY
ST. RAPHAEL HEALING SERVICES
Maureen Capistran, special guest, will give a short talk and also pray over people. A gifted Catholic Mystic and author of "Heaven's Helper My Little Star". An amazing true story of her daily communication with Heaven helping and teaching those in need. She was trained for 3 years by Jesus and the Blessed Mother. Then given the Archangel Michael who has guided her for over 20 years to help others. This life changing story is meant to teach that God exists, and what God would like us to know in order to advance our spiritual journey on earth and make it to Heaven. Through her story you will learn discernment and of God's miraculous powers. She has been appoved by 5 priests, whose letters are in the intro of the book. Also Heaven's Helper My Little Star has been endorsed by New York Times best selling author on angels Joan Wester Anderson author of "Where Angels Walk".
St. Raphael Oil used and available
St. Gabriel the Archangel Parish
151 Mendon St.
Upton, MA 01568
ST. GABRIEL THE ARCHANGEL PARISH
Telephone: 508-603-1430
CONDUCTED BY FR. LARRY BRAULT
April: 4/13/23
May: 5/11/23
June: 6/8/23
July: 7/13/23
August: 8/10/23
September: 9/14/23
September: 9/29/23 (Mass begins at 5:30)
October: 10/12/23
November: 11/9/23
December: 12/14/23
Mass 6:00 PM
Healing Service
Benediction
Confessions 6:30 PM
Please check the bulletin for any changes
(Second Thursday of the month, unless otherwise stated below)
ST. GABRIEL THE ARCHANGEL PARISH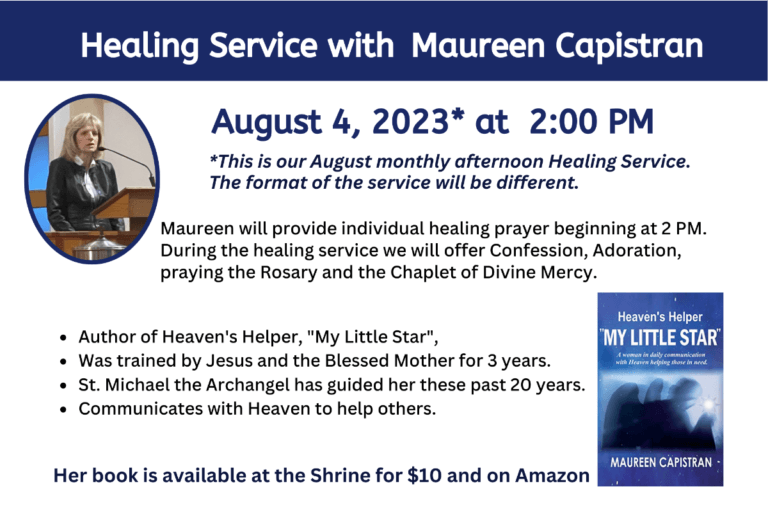 HEALING MASS for Addictions and Recovery

CONDUCTED BY FR. PAUL DESMARAIS
October 1, 2023
1:00 PM
First Sunday of the Month/ October -June
St. James Chapel
2079 Matunuck Schoolhouse Rd
Charlestown, RI 02813
Tel: 401-364-7214
St. Raphael Oil used and available
ST.MARY'S CHURCH/ST. JAMES CHAPEL
+ + + + + + + + + +
GENERAL HEALING MASS

CONDUCTED BY FR.MICHAEL NAJIM

Sunday October 8, 2023
2:00 PM
Second Sunday of the Month September through June
St Pius X Church
44 Elm St
Westerly, RI 02891
Tel: 401-596-2535
St. Raphael Oil used and available
+ + + + + + + + + +
Monthly HEALING SERVICE
CONDUCTED BY FR. RON BARKER
Wednesday October 4, 2023
7:00 PM

First Wednesday of the month
St. Joseph's Parish
173 Albion St.
Wakefield, MA 01880
Tel. 781-245-5770
St. Raphael Oil used and available
+ + + + + + + + + +
Friday October 6, 2023 2:00 pm Healing Service
Wednesday October 18, 2023 6:00 pm Healing Service
Thursday October 26, 2023 5:00 pm Healing Service with
Maureen Capistran and Rev. Paco Anzoategui
Lazarus Center for Healing Shrine
47 Butler Avenue
Wakefield, MA 01880